TUPE or not TUPE? That is the question
Designed to enable employees and business units to be transferred from one owner to another, TUPE legislation is now 33 years old
Designed to enable employees and business units to be transferred from one owner to another, the Transfer of Undertakings (Protection of Employment) legislation – TUPE – is now 33 years old. However, despite its heritage, problems still arise.
Evidence shows why TUPE is such a natural fit for many people dealing with IT. Hard-pressed local authorities are fighting rising obligations with diminishing budgets and so many have had to outsource a lot of their functions.
Gloucester City Council, which uses Civica, and South Oxfordshire Council, which contracts Capita, are cases in point. With contracts that can run for several years, there is a strong need to control cost and seek a return on investment – and that applies equally to private sector companies that are outsourcing.
Every TUPE transaction is different, says Amanda Arrowsmith, head of people transitions at support services firm Kier Services. With 17 years' experience in transfers of more than 7,000 employees on small and large-scale contracts, in both the public and private sector, she has first-hand experience. She knows that change can be challenging when firms want to improve their culture, alter ways of working or introduce new systems.
Mark Stevens, an associate at law firm Veale Wasbrough Vizards, agrees. He says that although most businesses can easily anticipate and agree what happens to software or hardware, "the question of what happens to the employees can be controversial – and expensive".
TUPE background
TUPE originally entered UK law in 1982 with the introduction of the Transfer of Undertakings (Protection of Employment) Regulations 1981, which were updated in 2006.
However, a further set of amendments – the Collective Redundancies and Transfer of Undertakings (Protection of Employment) (Amendment) Regulations 2014 – came in at the end of January 2014. These latest changes were designed to clarify and improve the regulations from a practical perspective and correct earlier issues.
Common sense says that in order to transfer staff, you need to know they exist and get good, solid employee liability information from the current employer. Unfortunately, this doesn't always happen

Amanda Arrowsmith, Kier Services
According to Michael Burns, a partner in the human resources practice group of law firm Eversheds, TUPE is a protecting piece of legislation. He describes how, in broad terms, TUPE aims to ensure that if an employee is assigned to a business that is being transferred, their employment automatically moves from seller to buyer at the point that the transaction completes.
Stevens echoes this, noting: "The goal is to ensure that the employee continues to enjoy all existing terms and conditions of employment – except pension rights – without interruption."
As far as IT is concerned, from the early 1990s onwards, employment tribunals began to apply TUPE to outsourcing projects following the transfer of various local authority functions from the public to the private sector. Eversheds' Burns says: "In many instances, although no business had been sold as a going concern, the outsourcing of a function previously undertaken by an organisation was caught by TUPE, so that employees undertaking these functions were entitled to protection."
Importantly, one of the major changes made in 2006 was an absolute confirmation that TUPE applied to outsourcing projects as the regulations made specific reference to outsourcing.
And this is where the problems become interesting, says Stevens. He points out that companies need to be aware of a client engaging a contractor to do work on its behalf, which then reassigns that contract or brings the work in-house – known as a service provision change. A good example of this is the decision to outsource software development to a new provider.
Recent changes to TUPE
Burns says most of the changes in 2014 were practical and sensible. The most notable was a clarification that the change in a workforce's location following a TUPE transfer could now lead to a fair dismissal; that the transferor and transferee could agree to allow meaningful consultation on redundancies before the transfer to deal with potential overlaps in obligations to consult; and an obligation on the part of a transferor to provide a transferee with basic information about the employees who will transfer up to 28 days before the transfer.
But Kier's Arrowsmith warns: "You only know what you know. Common sense says that in order to transfer staff, you need to know that they exist and get good, solid employee liability information from the current employer. Unfortunately, this doesn't always happen."
She says the quality of information is often varied and needs to be verified. On occasions, things get missed and this can lead to difficulties for employees and employers trying to unpick information at a later date.
The legal practicalities
Of course, it is the practicalities of TUPE that will bother most companies. Burns says there are two main issues that need consideration: "Does TUPE apply in the first place? If so, contractors need to examine whether, as a new contractor, they will provide a service that fundamentally is the same as those undertaken by the outgoing contractor; and, from a human point of view, which employees will transfer."
Computer Weekly Buyer's Guide to outsourcing
In this buyer's guide to outsourcing, we look at the issues in depth, as well as identifying trends in the market and investigating the outsourcing options available to small and medium-sized businesses.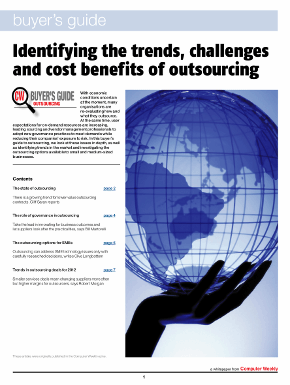 Contents:
The state of outsourcing
The role of governance in outsourcing
The outsourcing options for SMEs
Once these issues are resolved, Burns says those involved with TUPE should move to protect themselves from the mistakes that others tend to make. He knows from experience that most businesses that deal with contracting are well versed in the subject.
"However, contractors often get into difficultly where they do not do enough pre-planning and fail to ask for information early enough from a customer in order to develop a strategy," he says.
Burns suggests that contractors should look at whether they intend to argue that TUPE does not apply at all and whether they intend to contest that certain employees are involved. Firms should also ensure that the consultation process starts early on and that they consider terms and conditions and, as a consequence, assess whether there are any hidden costs in winning work.
Employers on the receiving end of TUPE find that problems occur where the previous employer has a very generous benefits package, which can be a challenge for a new employer to replicate. "Particularly where those benefits are linked to the financial performance of the current employer," says Arrowsmith.
To save on cost, parties cannot agree between themselves that TUPE will not apply. Stevens says: "If a relevant transfer takes place, the 'new' employer will inherit the 'old' employer's employees as a matter of law, which means the new employer effectively steps into the previous employer's shoes."
The use of good advisers is critical – a point that is emphasised by Burns. "I think the point here is, and always has been, to try and secure as much information about employees who may be transferred as early as possible," he says. "You can then focus on pre-tender due diligence in order to cost the project and make sure that you are willing to proceed at all."
Burns suggests seeking early confirmation from outgoing contractors/customers as to their views on the application of TUPE and where, perhaps, the customer may stand on sharing risk with an incoming contractor. It follows from what Burns says that pressures arise where due diligence has not been undertaken properly, and information comes to light, leaving risk and additional cost having to be assessed very quickly.
Read more on outsourcing
The UK's IT and business process outsourcing spend reached £6.65bn last year. IT outsourcing accounted for £3.44bn of that.
IT and digital services contributed more to the UK economy in 2013 than any other part of the business services sector.
Organisations in Europe accounted for over half of global IT outsourcing and business process outsourcing spending in 2014.
It's good to talk
Another area where issues can arise is informing and consulting with trade unions or elected employee representatives in relation to staff who may be affected by the transfer.
Naturally, where there is uncertainty, employees can react by blocking the process and any unionised environment is at risk. Arrowsmith talks of the early to mid-2000s, when unions would ballot over TUPE and many of the major unions were opposed to public sector outsourcing. She says that by talking, unions can become an asset to any transfer because they can help employees understand how TUPE works and how they remain protected.
Stevens says it is important to get consultation right. "Both employers will be jointly and severally liable to compensate employees in circumstances where insufficient information and consultation was provided," he points out.
Under TUPE, although appropriate compensation is limited to 13 weeks' gross pay for each affected employee, it can add up to a significant sum if many staff are involved.
Arrowsmith says that, on the whole, TUPE transfers go well. "But while a successful transfer can be due to many factors, the key is open communication, taking the time to listen and answer questions," she says.
The point she is making is that employer familiarity with TUPE means that it is easy to forget the major impact it can have on staff. "It's an uncertain time for employees and there are myths and misunderstandings about what TUPE is and what protection it gives," she adds.
Some staff may get TUPE 'fatigue' – same job, different name on the payslip – and so it is important to use a number of channels to communicate with employees. Arrowsmith recommends roadshows, one-to-one meetings, working with unions and employee representatives, newsletters, posters, desk drops, videos, blogs, frequently asked questions and formal correspondence.
Of course, there will always be employees who don't want to work in a new contract or culture. "The solution is to work with them or remove them through a fair and appropriate performance management system," says Arrowsmith.
TUPE provides a framework for employers to work within when taking over contracts. Although it can be seen as limiting and cumbersome, it encourages employers to work with and manage employees in a fair and consistent manner.