MS-CLIS at IIIT Allahabad: Evaluation of the post grad course in infosec
With numerous infosec certs to choose from, we look at how the master's in information security and cyber law (MS-CLIS) at IIIT Allahabad is different
Eshwar Pandey, a young infosec professional, feels he chose wisely when he enrolled for the master of science program in cyber law and information security (MS-CLIS) at IIIT, Allahabad (IIITA). Currently employed as an associate consultant at Ernst & Young India, the skills Pandey garnered during his two years at IIITA have held him in good stead. "Of all the certifications out there, MS-CLIS gave me that extra edge that changed my life," says Pandey.
Information security has spawned certifications for every imaginable infosec qualification. India itself has 70 odd colleges—government and private—that conduct courses in information security. Of these, the MS-CLIS course being offered at IIIT, Allahabad merits special mention, as the only two year full-time technical course exclusively in information security and cyber law.
The MS-CLIS course is seven years old, and was started as a one-year diploma course in information security. Comparable programs offer information security either as an elective, or as a specialization through retrofitted B. Tech/M. Tech courses—none offer a full degree in cyber law.
While academic courses are geared completely toward research and lack functional real-world exposure, industry certifications usually focus on specific skillsets to establish competencies—often disregarding fundamental knowledge. "What makes MS-CLIS unique is that it is professionally oriented, while encouraging scientific achievement and research," says Dr. Abhishek Vaish, the faculty coordinator for placement at IIITA. The approach has been to design a course that provides in-depth understanding of core concepts, with a major thrust on functional competencies using real world exposure.
MS-CLIS students receive grounding in programming, security auditing, logic and cryptography, in addition to policy and legislative procedures. According to Dr. Vaish, the education is at par with certifications like CISA, CISM and CISSP. "The knowledge that MS-CLIS students have at the end of the course is the same, as expected of a person holding all these certifications, and more," says Dr. Vaish.
The course's success is reflected in the industry's enthusiasm. According to Nitin Bhatnagar, the senior consultant/ global head business development and marketing - information security services with SISA Information Security Pvt. Ltd, "Every year, SISA has been recruiting students from the MS-CLIS program in increasing numbers." An IIITA alumnus himself, Bhatnagar says that a master's degree in information security is a rarity, which makes MS-CLIS grads highly sought after. Students are being recruited into IT, retail, finance and consultancies.
MS-CLIS, what you need to know
Candidates holding a B. Tech, BE, LLB degree or a post-graduation in any discipline are eligible to apply for the MS-CLIS program. While most applicants are engineers, around 10% hold law degrees, informs Dr. Vaish. A background in computer science is even better. The institute conducts its own entrance examination (for all categories), along with subsequent rounds of group discussions and personal interviews. There are no quotas.
IIITA accepts sponsored candidates with a minimum of one year work experience, and an aggregate of at least 60% or equivalent grade point average (GPA). For NRI and foreign nationals, candidates holding a B.S./ M. Sc/BE degree with 70% marks or equivalent grade points, and valid GRE Scores are eligible.
Candidates are selected through a three stage process involving application screening, entrance examination, and interview. Only screened-in candidates can appear for the entrance examination. Category wise admission is offered on merit, in which 65% weightage is given to the entrance test and 35% to the interview. There is a floating cut-off based on the competitors' relative scores.
According to Dr. Vaish, around 600 students compete for 75 seats every year. Provisionally selected candidates are informed on the same day. The entrance exam is divided into three sections, and partly follows the GMAT/GRE pattern, with additional sections on computer science/information technology orientation, and law.
MS-CLIS' cumulative course fees amount to Rs. 1.5 lakh. Tuition fees are Rs 25,000 per semester, with additional yearly academic expenses. Hostel accommodation is available at Rs 6,000 and Rs 3,000 per semester for single occupancy and double occupancy, respectively. Hostel residents are charged a per semester mess fee of Rs 9,450.
NRI and foreign students have to pay US$ 4,000 per year and other dues (like hostel and annual charges) in Indian Rupees. Fees for sponsored candidates are fixed at Rs 50,000 per semester. The cumulative fee for a sponsored candidate comes to Rs 1.76 lakh. Annual scholarships of up to Rs 36,000 are available to meritorious students, along with other state and sponsored scholarships.
Syllabus and course framework for MS-CLIS
MS-CLIS is divided into four semesters, with students required to take up summer internships of six to eight weeks. Students select two electives in semesters II and III—one each from a basket (sorted under compliance and implementation) per semester.
During internship, students work on live projects defined by the organization being interned with. Students usually receive offers to join companies, where have they undergone internships. There is a mandatory final internship project and research paper (which must be published to receive the degree) at the end of the fourth semester.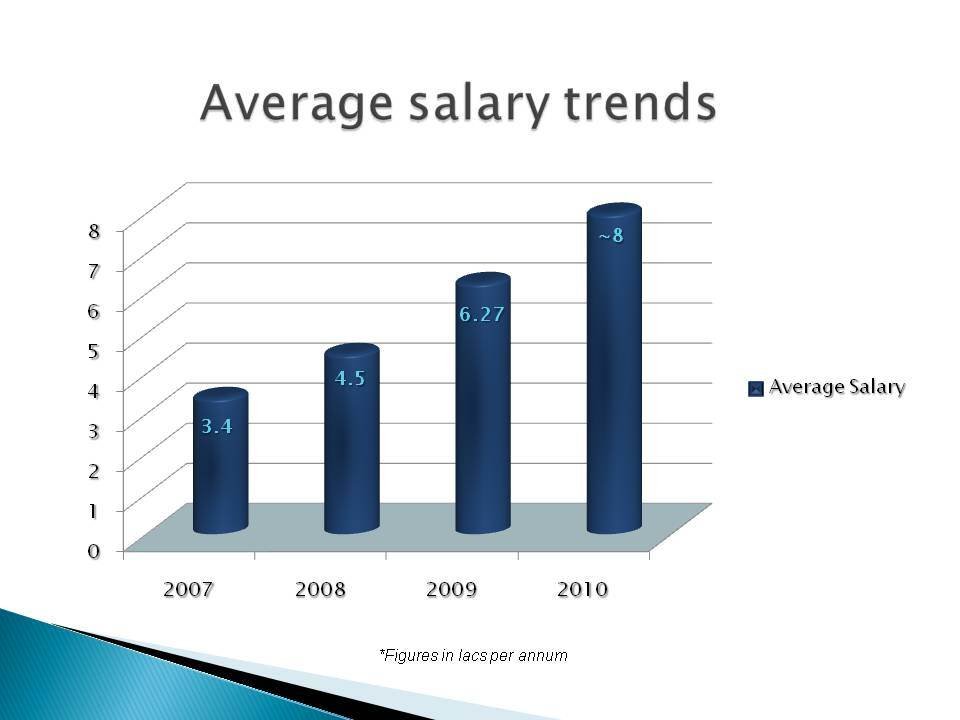 Average salary trends for MS-CLIS
The MS-CLIS curriculum intends to provide students an in-depth understanding of core concepts, viz.:
Security standards and compliance
Risk management
Privacy and data protection regulations
IT governance
BCP/DRP
Security audit and implementation
Information retrieval and computer forensics
Intellectual property rights (IPR)
The elective choices offered are:
| | |
| --- | --- |
| Implementation side (semester II & III) | Compliance side (semester II & III) |
| Technical risk assessment (or) BCP and DRP | SOX (or) e-business security (NDA, GLBA, electronic contract) |
| Static information and software protection tools (or) Data integrity and plagiarism detection tools | HIPAA (or) DPA |
| Cryptographic protocol (or) authentication protocol | COBIT (or) ITIL |
| Modeling and simulation (or) pattern recognition | ISO-15048, ISO9001 (or) BASEL |
Demand for MS-CLIS grads
For students and working professionals alike, MS-CLIS course offers great value, considering the dual focus of the course which is specifically designed to address infosec requirements. Experience imparted in terms of real world exposure may well turn out to be the tipping factor in business critical environments.