Essential guide to operation-centric security
To stay ahead of cyber attackers, security teams need to take an operation-centric approach
Introduction
Cyber attackers are becoming smarter. Sorry to tell you that. The range of threats that organisations face is getting bigger and broader. Malicious actors are targeting all manner of devices, applications, networks and users. They are introducing new tactics and techniques, in a game of bluff and double bluff designed to confuse potential victims, while slipping in by the back door.
In the past year alone, we've seen increases in ransomware attacks, and highly targeted phishing and social engineering. And as more people are working remotely during the pandemic, this has introduced a whole new set of risks and exposed more users to attack.
While there are many security tools available to help organisations defend their digital assets, most are designed for a specific purpose – for securing endpoints, cloud systems or mobile devices, for example. For security professionals, there's a real risk of alert overload, making it difficult to tell which threats to prioritise.
To stay ahead of attackers, security teams need to take an operation-centric approach, to offer a real-time picture of activity across their estate. This breaks down the threat intelligence silos, reverses the attacker advantage, and returns the high ground to the defenders by extending detection and response capabilities across the organisation. In this essential guide, we look across the security spectrum to highlight the many challenges faced by IT security experts where an operation-centric approach will help.
1

Cyber threats

-
The growing range of cyber threats
Cyber criminals are becoming increasingly sophisticated, with a growing range of tools and techniques targeting your valuable digital assets.
2

Security strategy

-
Developing security strategies
Setting up a plan to protect and defend your infrastructure, devices and users requires a range of approaches, all of which could be enhanced by a more holistic, operation-centric view of threats.

Download this free guide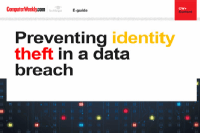 Preventing identity theft in a data breach
In this e-guide, we will explore the links between ransomware attacks, data breaches and identity theft. First, Nicholas Fearn investigates the phenomenon of the double extortion attack, and shares some insider advice on how to stop them, while we'll explore the top five ways data backups can protect against ransomware in the first place.
3

Security tactics

-
How security teams are tackling cyber threats
For security professionals, it's a daily battle with their adversaries, requiring constant vigilance and excellent detection, defence, and response systems. The coronavirus pandemic also offers an opportunity to rethink your security tactics for the challenges of a post-Covid world.