Q
What type of data storage media is best for data with long retention requirements?
Learn what types of data storage technologies, including SATA, MAID, virtual tape libraries (VTLs) and tape drives, are best suited for data with long retention requirements.
What type of data storage media is best for data with long retention requirements?
Deciding what
data storage media
to use depends on whether the data you're storing is live or
backup data
. Live data consists of files that are still part of a mounted file system, while backup data consists of files that are housed in a data backup system.
As backup data is usually a copy of live data, it's usually necessary to retain this data so you can restore it should the original be damaged in some way, or for compliance purposes. The retention period for live data is governed by the useful life of the data itself. Once the data has passed its useful lifecycle, it should be moved to archive or backup media and stored in keeping with the organisation's retention and compliance policies.
When considering the target media for both categories of data, the time interval that is acceptable between requests for the data retrieval and when the data actually arrives must be established. This will determine what media the data is written to for backup data, and what archiving policies are enforced for live data.
Once the recovery time limit or objective has been established, then the type of data store should be the cheapest available choice that meets this limit while also meeting other security, resilience and compliance criteria. The following are examples of media that meet various time limits:
Content Continues Below

Download this free guide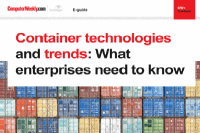 Container technologies and trends: What enterprises need to know
In this e-guide, we take a look at how and why enterprises are tapping into containers to bolster the business agility of their IT infrastructure and application estates, and some of the latest thinking about how best to utilise container technologies.
When adding an old hard drive to RAID sets on servers, it's important to account for factors such as the number of drive bays in the host. See how to... Continue Reading
In this Ask the Expert, Steve Pinder talks about which RAID level to choose, depending on the criticality of your data or the capacity required. Continue Reading
Learn about the differences between a FATA disk and a Fibre Channel drive, and find out how to determine which drive type is better for Exchange 2007... Continue Reading
Read more on Data protection, backup and archiving