Q
What are some best practices for storing backup tapes offsite?
Shipping tapes offsite? Learn the importance of recovery time objectives and recovery point objectives, inventory lists and migrating media to newer technology.
What are some best practices for storing backup tapes offsite?
Despite the increased use of disk and wide-area network (WAN) replication, tape continues to play a vital role in data protection strategies. The location of your backup tapes is a key factor in any disaster recovery (DR) plan, and should be chosen based on your organisation's defined recovery time objective (RPO) and recovery point objective (RPO).

Download this free guide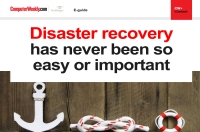 Hackers are stepping up their efforts, why aren't you?
We discuss why disaster recovery has never been more important. With digital transformation making most modern enterprises entirely dependent on their IT systems to function, cyber attackers have stepped up their capabilities to go after sensitive data wherever it is found.
Governing bodies such as the Financial Services Authority and guidelines such as the BS25999 international business continuity standard provide recommendations for offsite backup tape, but they aren't prescriptive regarding distance and don't tell you whether your own remote office (or a third-party location) should be used. Their best practices include risk assessment associated with security of data in transit and offsite, as well as with regard to its location. The latter includes ensuring that your offsite location doesn't fall within potential quarantine zones, access routes or environmental disaster belts that would be affected in the same way as the production site those tapes are protecting.
Here are some best practices for storing backup tapes offsite:
Store materials within a reasonable distance for timely recovery. A radius of up to four hours is commonplace, but is subject to your business-defined recovery objectives and the threats you're protecting against.
Keep all tapes, disks and other materials in a controlled environment safe from heat, humidity, dust, etc.
Duplicate all onsite backup media (no single copies) and send them offsite daily
Keep an inventory of all offsite materials
Periodically test long-term retention media and migrate it to new media as technology evolves to ensure data recoverability
CDP is effective against physical corruptions because it maintains one or more copies of your data, either locally or remotely, to ensure disaster ... Continue Reading
Deduplication means less data in backup storage, which means backup targets occupy less space and save on power and cooling. But dedupe at the source... Continue Reading
Before moving from tape to disk-based backups, you need to consider recovery objectives, the age of your current tape investment, backup and restore ... Continue Reading
Read more on Data protection, backup and archiving