Q
Recovering from a two-drive failure in a RAID 10 configuration
In a RAID 10 configuration with four drives, data can be recovered if two of the drives fail. But recovering the data depends on which drives in the RAID configuration fail.
In a RAID 10 configuration with four drives, can you recover data if two drives fail?
A
RAID 10
configuration comprises two or more
mirrored
pairs of drives. Drives that are on each "side" of the mirror have data
striped
across them in a RAID 0 format. This combination of mirrored pairs (
RAID 1
) and striping (RAID 0) is how RAID 10 gets its name. Because you must have at least two mirrored pairs to create a RAID 10 array, the minimum number of drives in a RAID 10 format has to be four.
So it's possible to recover data if two drives in a RAID 10 configuration fail, but it's dependent upon which two drives fail. Consider a four-drive RAID 10 setup where drives A and B have data striped across them and are mirrored by drives C and D on the opposite side. This RAID group can recover if any or all drives in a stripe fail, but not if both drives in a particular mirror fail. Therefore, we can recover if drives A and B or drives C and D fail, but not if drives A and C or drives B and D fail.
Content Continues Below

Download this free guide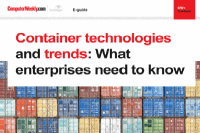 Container technologies and trends: What enterprises need to know
In this e-guide, we take a look at how and why enterprises are tapping into containers to bolster the business agility of their IT infrastructure and application estates, and some of the latest thinking about how best to utilise container technologies.
When adding an old hard drive to RAID sets on servers, it's important to account for factors such as the number of drive bays in the host. See how to... Continue Reading
In this Ask the Expert, Steve Pinder talks about which RAID level to choose, depending on the criticality of your data or the capacity required. Continue Reading
Learn about the differences between a FATA disk and a Fibre Channel drive, and find out how to determine which drive type is better for Exchange 2007... Continue Reading
Read more on SAN, NAS, solid state, RAID