The CEO of EMC has hit out at rival firm FusionIO, calling the company's attitude towards Flash "darn right foolish".
The storage giant and tech start-up are battling for customers in the Flash space, but both have very different approaches to the technology.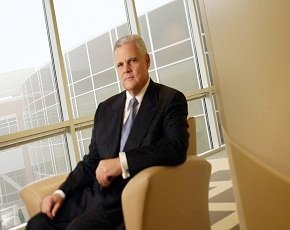 While FusionIO focuses on selling Flash on PCIe cards to plug into servers directly, EMC has previously stuck with SSDs in the storage array and is only just breaking into the same server-based market.
David Flynn, CEO of FusionIO, has had no qualms in voicing his opinion on EMC, calling the firm the "bottleneck" in the datacentre and saying its methods of using Flash were akin to "trying to push an elephant through a straw".
Tucci responded to the comments at his company's annual conference in Las Vegas, telling Computer Weekly that FusionIO's message was a mistake.  
"Any time you have a message, and FusionIO does this, any time you have a message out there that 'this is the best way' to do storage or anything IT, it is foolish; it is darn right foolish," he said.
Tucci had no doubt the PCIe card product had its place, as EMC's own VFCache performs the same function, but claimed it wasn't suitable for every storage occasion.
"The differentiation is that it is a very expensive, very fast form of storage," he said. "What happens to that data process in many cases is you want to keep it around, but you don't want to keep it around stored on that expensive FusionIO card. Instead you want to move it, and [FusionIO] doesn't do that very well."
EMC, however, has also launched its FAST technology to enable the process of moving data that has "aged" and isn't needed immediately onto cheaper storage tiers.
The CEO concluded: "Anyone who tells you it's a one-size-fits-all world is missing the boat."
Email Alerts
Register now to receive ComputerWeekly.com IT-related news, guides and more, delivered to your inbox.
By submitting your personal information, you agree to receive emails regarding relevant products and special offers from TechTarget and its partners. You also agree that your personal information may be transferred and processed in the United States, and that you have read and agree to the
Terms of Use
and the
Privacy Policy
.