Web conferencing: Adoption grows and evolution continues
As one of the key technologies of unified communications, web conferencing will continue to grow, adding application-sharing and video elements.
This Article Covers
RELATED TOPICS
Web conferencing has been around for less than 10 years but has gained remarkable acceptance in the workplace. As one of the key collaborative technologies of unified communications, web conferencing will continue to grow in functionality, incorporating many application-sharing and video elements.

Download this free guide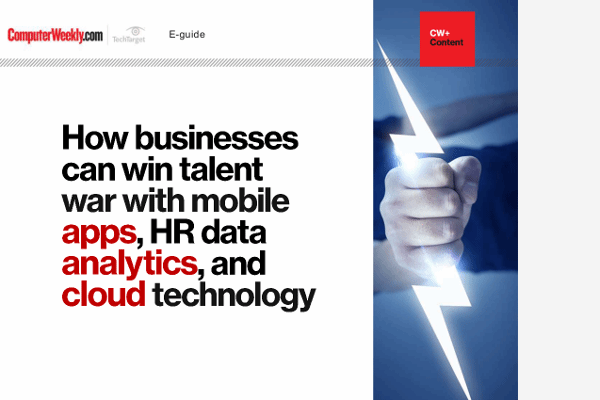 How businesses can win talent war with mobile apps, HR data analytics and cloud technology
Latest articles on HR best practices: mobile apps disrupting the annual staff appraisals; reasons for and against open-source software; and Rolls-Royce case study.
By submitting your email address, you agree to receive emails regarding relevant topic offers from TechTarget and its partners. You can withdraw your consent at any time. Contact TechTarget at 275 Grove Street, Newton, MA.
You also agree that your personal information may be transferred and processed in the United States, and that you have read and agree to the Terms of Use and the Privacy Policy.

First emerging circa 1999, web conferencing services began as extensions of remote control software and multimedia player applets downloaded within browsers. Executing the service within the enterprise, however, didn't achieve market acceptance. Most enterprises found it insecure to provide access to the server for Internet-attached users and were concerned about their responsibilities for providing support (or risks of damages) for software downloaded to a user's browser.
These reasons made the hosted service model a more appropriate choice. Simply paying a hosted service company assured that someone else besides the sponsoring enterprise would be responsible for supporting users and participants alike, and provided an incentive to minimise support costs. As the typical access speed of Internet access increased, and as multimedia capabilities of modern operating systems and browser stability greatly improved, so has the web conferencing market grown.
Web conferencing will grow in frequency and length.
This market is expected to continue to grow as users conduct longer and more frequent sessions. Recent web conferencing research by Brockmann & Company shows that for users rating web conferencing as very important to their job performance, 43% expect the typical length of web conferences to grow, and 63% expect the frequency of web conferences to grow.
Web conferencing will also become available to more customers as organisations take advantage of web conferencing as part of a broader hosted services portfolio or enterprise-based communications capability.
Web conferencing will emerge as part of a hosted unified communications service portfolio.
The acquisition of PlaceWare by Microsoft in 2003 and the acquisitions this year of WebEx by Cisco and of WebDialog by IBM suggest that hosted web conferencing services will be integrated with instant messaging and unified communications systems and services. The Microsoft Live portfolio includes web conferencing, VoIP and the Office suite as hosted applications, today.
Not willing to leave the market to Microsoft, both IBM and Cisco are positioning themselves to participate in this emerging capability. IBM's recent introduction of Lotus Symphony and hosting of Lotus Notes are part of a strategic equivalent approach. Cisco customers will experience click-to-conference integrations between Cisco Unified Communications systems and WebEx web conferences. IBM customers will see similar click-to-conference capabilities for Lotus users. Significantly for both IBM and Cisco, these acquisitions will form the focal point for hosted services or at least their answer to the hosted service option, further enabling hosted communications services such as VoIP, instant messaging and office-like applications for the enterprise.
Video will become a standard component of web conferencing.
This will occur as more companies realise the benefits of visual communications as part of the web conference experience. A presentation is never about the charts; the charts are the backdrop. It is the presenter, the message and the way the presenter delivers the message that matters. That's why actually seeing the presenter is key for the audience and why seeing the audience is key for the presenter.
Video will infiltrate in three ways. First, hosted services from companies such as SightSpeed.com, MegaMeeting.com and HearMe.com will evolved from desktop video conferencing to application sharing and deliver more conventional web conferencing functionality such as presentation effects and front-end services like registration and reminder capabilities. These companies will move into the video/web conferencing space because it will accelerate revenues.
Second, desktop video conferencing systems, such as the Scopia system from Radvision and the Movi system from Tandberg will be optionally integrated with web conferencing capabilities from major service providers, such that web and video users can see the presentation or demonstration and see the presenter and audience.
Third, room-based telepresence and high-definition solutions such as those offered by Cisco, HP, Polycom, Tandberg and LifeSize will be optionally integrated with web conferencing capabilities from major service providers. This will allow a roomful of participants to participate in web conferences with room participants or desktop participants with or without video.
Web conferencing will continue to grow in its appeal as a method for information-sharing events, product demonstrations and training applications. In the near future, the experience will be integrated into a range of communications options including click-to-conference, desktop and high-definition video conferencing.
Read more on Collaboration software and productivity software