Most organizations are willing to tinker with VoIP or deploy it in one or two locations, but very few companies have installed it as their primary voice solution. As enterprises get closer to full deployment, the need for VoIP management will become increasingly more important. However, the majority of companies are unprepared for the complexities of a converged network.
According to a recent Yankee Group Survey, less than 50% of enterprises that have deployed VoIP currently use a comprehensive management solution. At the same time, network managers often demonstrate a lack of confidence in the technology and its promised benefits. With the industry moving beyond VoIP and more toward unified communications, network managers must implement a comprehensive VoIP management strategy, as this will be the key to obtaining the value and minimizing the risk of enterprise wide scale deployment.
Many network managers who are deploying Cisco IP telephony will continue to lack the confidence until they adopt a more complete VoIP management solution from a credible, experienced vendor. Fortunately, many vendors have emerged as trusted, viable partners that can offer an end-to-end management solution for Cisco VoIP environments. With the selection of vendors provided network managers should feel confident in successfully deploying and experiencing the value and benefits of IP telephony.
Exhibit 1. Adoption of VoIP management solutions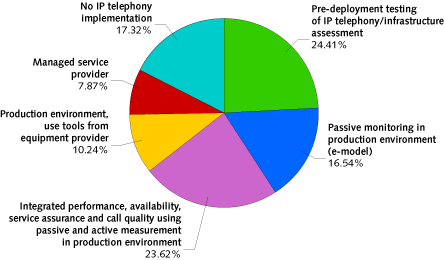 The uncertainty and cautiousness generated from network managers is one of the things holding back enterprise-wide deployments. This insecurity stems from the perceived immaturity of VoIP management tools and the strategies to deploy them. Survey data and anecdotal interviews have shown that telecom and network managers tend to get more comfortable as they move to the production stage. However, the confidence during early stages of testing is a key and having the right management tools in place will help to alleviate some of the uncertainty. It will provide network managers with better insight into the environment and more predictable performance in production environments.
A comprehensive management strategy based on a lifecycle approach is strongly recommended. The VoIP management lifecycle addresses each stage of an enterprise Cisco VoIP deployment and the required management tasks. Following this approach will give network managers the confidence needed during the early stages and will ultimately deploy VoIP faster and create a more manageable enterprise VoIP platform.
Return to Cisco VoIP management guide.

Email Alerts
Register now to receive ComputerWeekly.com IT-related news, guides and more, delivered to your inbox.
By submitting your personal information, you agree to receive emails regarding relevant products and special offers from TechTarget and its partners. You also agree that your personal information may be transferred and processed in the United States, and that you have read and agree to the
Terms of Use
and the
Privacy Policy
.