Capacity planning software specifications
Gauging storage needs over time is one of the biggest challenges faced by IT administrators, and a new generation of capacity planning tools is emerging to help forecast growth and utilization of storage resources, and even perform predictive modeling of the future storage environment based on historical data collected. The product snapshots in this chapter highlight key specifications for a cross-section of popular capacity planning software products.
Gauging storage needs over time is one of the biggest challenges faced by IT administrators, and a new generation of capacity planning tools is emerging to help forecast growth and utilization of storage resources, and even perform predictive modeling of the future storage environment based on historical data collected. Capacity planning tools must include a thorough consideration of your applications while being interoperable across all of your storage systems, while still meeting all of your analytical and reporting requirements. The product snapshots in this chapter highlight key specifications for a cross-section of popular capacity planning software products. The following products were selected based on input from industry analysts and SearchStorage.com editors, and specifications are current as of February 2007. The following specifications have been provided by vendors and are periodically updated. Vendors are welcome to submit their updates and new product specifications to sbigelow@techtarget.com. Go to the first product snapshot, or select the desired product below: Aptare Inc.; StorageConsole software EMC Corp.; StorageScope software Finisar Corp.; NetWisdom software IBM; Tivoli TotalStorage Productivity Center for Data Microsoft; System Center Capacity Planner 2006 MonoSphere Inc.; Storage Horizon 3.1 software TeamQuest Corp.; TeamQuest Model software Tek-Tools Inc.; StorageProfiler software Return to the beginning Product Snapshot #1 ----------------------------------------------------------------------------------------------------------- Product: Aptare Inc.; StorageConsole software Storage System Support: SAN, NAS, DAS Data Analysis: Yes Key Features: Utilization optimization and predictive analysis Management Features: Key features include browser-based console, personalized home page, dashboard analytics Scalability: One server running the specified software can support approximately up to 8,000 clients being backed up Reporting: Reporting includes backup and restore summary, file level detail, discovery of unprotected data Simulations: Yes. The software identifies suspect backups and eliminates "false positives" by identifying partial backups that report as successful. Operating System: Solaris, Red Hat Linux, Windows 2000 or 2003 Server Standards Support: All information is transmitted via https protocols eliminating any need for proprietary ports. It supports all the popular browsers: Internet Explorer 5.5+, Mozilla Firefox 1.3+, and Netscape 7.1+ System Requirements: Dual processor server with 8Gb memory with 200Gbs of RAID 5 Storage Implementation: Deploys an agent on the master server, without any code on the clients or media servers. StorageConsole is agnostic to the underlying backup medium. Interoperability: VERITAS NetBackup, IBM Tivoli, EMC Legato Vendor Comment: APTARE provides web-based enterprise software that enables storage administrators to achieve maximum data protection across heterogeneous storage environments. The company's flagship product, APTARE StorageConsole, increases the reliability of protecting a company's digital assets by quickly identifying unprotected data, improving capacity planning, increasing performance and providing compliance with audits and legal discovery. Availability: Currently available Base Cost: Pricing is on a per unit basis with the average cost being around $100/client. Detailed Specs: http://www.aptare.com/storageconsole_features.jsp Vendor URL: www.aptare.com Go to beginning ----------------------------------------------------------------------------------------------------------- Product Snapshot #2 ----------------------------------------------------------------------------------------------------------- Product: EMC Corp.; ControlCenter software Storage System Support: SAN, NAS, DAS, CAS Data Analysis: Data analysis for databases, backup applications, volume groups, physical disks, hosts, arrays and files Key Features: Key SRM and reporting solutions in the ControlCenter family include StorageScope for integrated asset utilization reporting across multi-vendor storage infrastructures, StorageScope File Level Reporter for file level monitoring and reporting for improved control, and Performance Manager for end-to-end performance resource management. Management Features: Management features include ControlCenter StorageScope, ControlCenter StorageScope File Level Reporter, ControlCenter Performance Manager, ControlCenter SAN Manager, ControlCenter SAN Advisor, ControlCenter Automated Resource Manager (ARM), Symmetrix Optimizer, ControlCenter Symmetrix Manager, and ControlCenter NaviSphere Management Suite Scalability: Managed object size is determined by the number of Managed Object resources (not the total capacity) Reporting: StorageScope provides extensive reporting for host storage resources (databases, backup applications, volume groups and file systems). Any StorageScope report can be exported for customization; the data can also be accessed via XML or database views. StorageScope reports can compare planned vs. actual storage usage and provide input into the capacity planning process. StorageScope also assists in forecasting future storage needs. From a historical report, users select trend lines and the solution will forecast anticipated needs for a defined period of time and forecast future storage requirements more accurately. StorageScope also reports file-level summary details at the host and file system level allowing users to identify the largest files, directories, and most dormant files. Simulations: Not provided Operating System: AIX, HP-UX, Sun, Windows, Linux and Mainframe Standards Support: EMC does exploit standards such as SMI-S and SNMP, and uses APIs System Requirements: Not provided Implementation: Not provided Interoperability: Refer to the support matrix at http://powerlink.emc.com/km/live1/en_US/Offering_Technical/Interoperability_Matrix/DocLib/300-003-704_a05_elccnt_0.pdf?mtcs=ZXZlbnRUeXBlPUttQ2xpY2tDb250ZW50RXZlbnQsZG9jdW1lbnRJZD0wOTAxNDA2NjgwMjBkZmM0LG5hdmVOb2RlPVNvZndhcmVEb3dubG9hZHM_ Vendor Comment: Built on industry leading automation building blocks of model based management (Smarts), application dependency mapping (nLayers Application Discovery Manager), and storage resource management (ControlCenter), this solution enables IT to more effectively deliver services across storage, network, server, and application domains. With this solution set customers can better enable CMDB & ITIL process automation, accelerate data center, server and storage consolidation, unify management of tiered storage, and optimize delivery of next generation IT services. Availability: EMC ControlCenter 5.2 SP 5 and EMC ControlCenter SAN Advisor 5.3 both currently available Base Cost: Contact EMC or reseller for pricing Detailed Specs: http://www.emc.com/products/storage_management/controlcenter.jsp Vendor URL: www.emc.com Go to beginning ----------------------------------------------------------------------------------------------------------- Product Snapshot #3 ----------------------------------------------------------------------------------------------------------- Product: Finisar Corp.; NetWisdom Enterprise SAN solutions Storage System Support: NetWisdom supports Fibre Channel SAN Data Analysis: Data analysis provides detail information at host, array and LUN level Key Features: Provides end-to-end (e2e) bandwidth capacity monitoring and trending. NetWisdom uses dedicated hardware monitoring instead of a software agent that could cause incompatibility and be a taxing system resource. Management Features: NetWisdom provides alarms based on user configurable rules. Rules can be based on throughput, latency or event within FC SAN. Scalability: We recommend that our hardware solution be deployed on the storage ports of FC SAN. We can support 1000's of links with an unlimited number for hosts. Reporting: Reports end-to-end throughput, latency, queue depth and event reports based on point-in-time or trending. Reports can be scheduled or event-driven. Simulations: We do not have a predictive or simulation feature Operating System: Our bandwidth capacity planning is OS independent. Our dedicate hardware collects data directly from the physical link. Standards Support: SNMP and FC System Requirements: Dual CPU Intel Xeon 2.4 GHz system, Windows 2003 Server, Windows 2000 or Windows XP, 4 GB of RAM, 100 Mb/s Ethernet port with TCP/IP configured, CD ROM drive, Administrator rights on the host computer (Portal and Client) Implementation: Traffic Access Points (TAPs) inserted between storage ports and fabric; TAP output is routed to the ProbeFCX; NetWisdom portal server collects statistical data from ProbeFCX into a self- managed database; User accesses data from the portal server via client software or HTTP web interface. Interoperability: Supports any storage vendor that adheres to the Fibre Channel standard Vendor Comment: Finisar NetWisdom Enterprise solutions and services provide deep fabric visibility to quickly diagnose issues and prevent future problems in their SAN infrastructure thus enabling them to ensure critical enterprise applications have uninhibited, unrestricted access to the data, every time. Availability: Currently available Base Cost: NetWisdom Express, a software-only, entry-level solution is priced under $13K. NetWisdom Enterprise which includes 4Gb/s Fibre Channel hardware probes in addition to the management and reporting application is priced under $25K for 2-probes, while the full configuration of 8-probes is priced at under $50K. Detailed Specs: http://www.finisar.com/index.php?file=product&var=product&div_id=smenu3&level=C&sub_sub_cat=6&dlink=NetWisdom Vendor URL: www.finistar.com Go to beginning ----------------------------------------------------------------------------------------------------------- Product Snapshot #4 ----------------------------------------------------------------------------------------------------------- Product: IBM; TotalStorage Productivity Center for Data Storage System Support: Supports SAN, NAS and DAS in addition to being able to view IBM 3584/3500 tape library assets Data Analysis: Designed to help improve capacity utilization of file systems, databases, arrays, and tape libraries and to add intelligence to data protection and retention practices. It is also extremely useful in helping perform data classification/categorization for ILM purposes and Storage Assessment purposes. It may also be used to help with governmental regulation compliance. Key Features: Improves storage utilization by identifying storage capacity allocated in storage subsystems that is not assigned to any server; highlighting areas where allocated capacity significantly exceeds used capacity; enabling redistribution of capacity; proactively monitoring and enforcing storage usage policies; archiving and space managing files; identifying inappropriate data; identifying orphaned data; identifying duplicate data Management Features: IBM TotalStorage Productivity Center's new Topology Viewer employs progressive information disclosure allowing a layered drill-down that greatly simplifies daily administrative tasks. Detailing all storage resources in context, the topology viewer includes overlays that can show the health and performance of storage resources via color-coded indications and a mini-map in the corner of the screen showing where the topology that is being viewed resides in relation to the rest of the storage infrastructure. Scalability: A single instance of IBM TotalStorage Productivity Center can handle over 50 storage arrays, approximately 85 switches representing several thousand switch, host and array ports and dozen

Download this free guide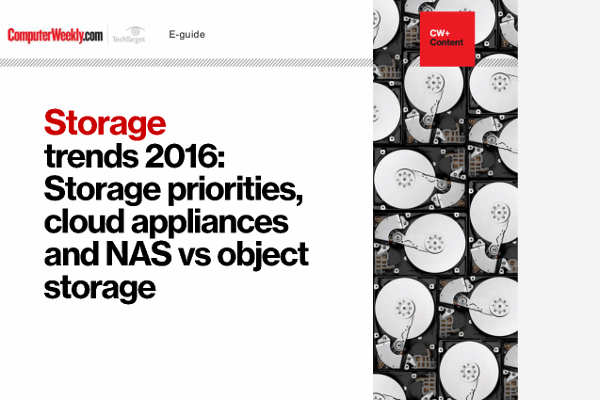 Storage trends 2016: Storage priorities, cloud appliances and NAS vs object storage
Our guide to the latest shifts in the Storage to-do list for IT departments, cloud appliance providers, and what to do with large volumes of unstructured data
By submitting your email address, you agree to receive emails regarding relevant topic offers from TechTarget and its partners. You can withdraw your consent at any time. Contact TechTarget at 275 Grove Street, Newton, MA.
You also agree that your personal information may be transferred and processed in the United States, and that you have read and agree to the Terms of Use and the Privacy Policy.