IP storage switch and router purchase considerations
The choice of an IP switch or router demands careful consideration of issues including port speed, segmentation, interoperability and security
This Article Covers
RELATED TOPICS
Most of today's enterprise-class storage networks employ Fibre Channel technology for its high performance and rich features. But FC is still expensive to deploy, configure and manage -- well beyond the means and technical capability of many small to midsized IT departments. By comparison, IP network (e.g., Ethernet) technology and components are inexpensive and readily available; offering ubiquitous deployment from the SOHO to the largest corporate user LAN. By supporting SCSI storage commands across the IP network, organisations of all sizes can now deploy inexpensive storage networks capable of transporting storage data anywhere Internet access is available. As with FC storage networks, devices like switches and routers play critical roles in IP storage performance by segmenting storage traffic, keeping that traffic separated from regular LAN user traffic, and maintaining security. The most current IP switches and routers even provide high-end features such as active/active clustered failover, failback, and multipathing capabilities for improved reliability.

Consequently, choosing an IP storage switch or router will have a profound impact on your IP storage implementation: While the actual product list is relatively small -- dominated by well-established communication vendors -- the choice of an IP switch or router demands careful consideration of issues including port speed, segmentation, interoperability, security, and application compatibility. Now that you've reviewed the essential issues involved in any storage network scaling project, this segment will first focus on specific considerations for IP storage switches and routers. After that, you'll also find a series of specifications to help make on-the-spot product comparisons between vendors, including Brocade Communications Systems Inc., Cisco Systems Inc., Emulex Corp., and others.

Download this free guide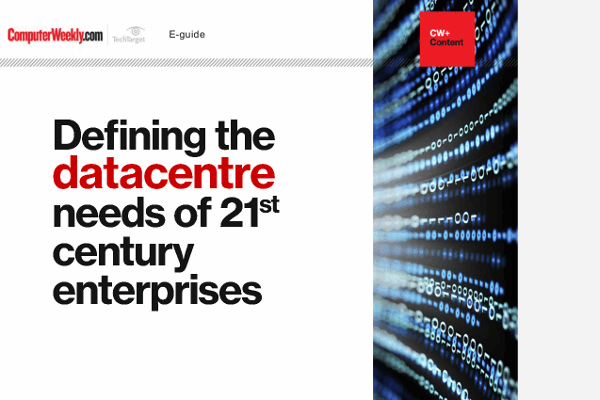 Defining the datacentre needs of 21st century enterprises
A collection of our most popular articles on datacentre management, including: Cloud vs. Colocation: Why both make sense for the enterprise right now; AWS at 10: How the cloud giant shook up enterprise IT and Life on the edge: The benefits of using micro datacenters
By submitting your email address, you agree to receive emails regarding relevant topic offers from TechTarget and its partners. You can withdraw your consent at any time. Contact TechTarget at 275 Grove Street, Newton, MA.
You also agree that your personal information may be transferred and processed in the United States, and that you have read and agree to the Terms of Use and the Privacy Policy.

Determine the need for an IP storage network. The first purchase consideration should be to evaluate the need for an IP storage network in the first place. If a site already deploys 100% FC, it may not make sense to add IP storage to the mix. It's another storage infrastructure that needs to be implemented and managed. However, the price/performance tradeoff can be compelling; by implementing an inexpensive and well-understood IP storage infrastructure, many more servers can be cost-effectively interconnected to the fabric, and this in turn can dramatically improve server resource availability for the entire workgroup or organisation -- a good first step in server/storage consolidation. Also consider the applications that will run on the IP SAN. Some applications are better-suited for an IP SAN, while others may require an FC SAN. Lab testing can help identify any potential application compatibility problems.
Consider the logical separation points. While smaller organisations could deploy IP storage networks only, larger IT departments with a current FC investment must decide how IP storage fits in the overall storage picture. For example, it might be prudent to place user data on IP storage, while mission-critical applications and data remain on FC. Similarly, IP SANs may be appealing in remote offices where a smaller staff can easily be supported, and storage data can be exchanged with the main data center across the Internet. IP switches and routers should be selected with such criteria in mind. Industry experts note other technical purchase considerations including SAN segmentation support and cross domain inter fabric routing; including mapping zones across SAN segments. Virtualisation is often used to segregate IP SANs (Cisco has coined the term VSAN).
Consider IP SAN security features. The ubiquitous nature of IP can impair IP SAN security. It is important to keep the IP SAN logically separated from the rest of the user LAN. Otherwise it is possible that sensitive corporate data may "leak out" across the LAN and onto the Internet unexpectedly. In addition to good IP SAN planning, you should also evaluate the authorisation and authentication capabilities of an IP switch or router to ensure that no unauthorised users can access the IP SAN. For example, Brocade's FC4-16IP Blade for 48000 Director includes RADIUS. By comparison, Cisco's 9216A and 9216i Multilayer Fabric Switches includes support for IPsec, Internet Key Exchange (IKE), and virtual SANs (VSANs).
Consider the ports and connectivity features. Since iSCSI is often implemented to supplement a FC SAN, the switch and router hardware will implement both IP and FC ports on the same physical device. Evaluate the available ports and their performance to be sure that an iSCSI investment will offer adequate expandability. For example, Brocade's iSCSI gateway combines two Gigabit Ethernet ports and two 2 Gb/s FC ports into a single device -- this approach is adept at linking servers with both iSCSI and FC storage systems. Also pay attention to the device's protocol support, and translations between protocols should accommodate your specific needs. For example, an IP switch or router may handle translations like iSCSI to FCP, FCP to FCIP, FCP to iFCP, FCP to FICON, FCP to SRP, and so on. Advanced features like active/active clustered failover, failback, and multipathing capabilities all help to improve the reliability and availability of the IP SAN.
Consider the available management tools. All IP switches and routers will provide some type of management software, but it's important to evaluate the effectiveness and flexibility of the software before making a purchase decision. Tools should generally allow for device configuration and maintenance. Management tools may allow performance monitoring for resource utilisation analysis and service level management. Intelligent health monitoring features can identify potential faults and alert a technician. Enhanced features like ISL trunking aid inter-switch performance and port consolidation. Today, management tools are increasingly heterogeneous, supporting multiple vendors' devices through a single console.
Consider WAN features like compression and acceleration. IP devices intended to operate over WAN connections may include features designed to optimise bandwidth. FCIP compression reduces redundant data, shrinking the shear amount of data passed across the WAN. Acceleration features like FCIP write acceleration and FCIP tape acceleration improve storage traffic across distance by eliminating the latency caused by command acknowledgements. For example, Cisco's MDS 9000 IP Storage Services Modules claim compression ratios of 2:1 to 30:1, while supporting both FCIP write acceleration and FCIP tape acceleration.
The IP storage switch and router specifications page in this chapter covers the following products:
Brocade Communications Systems Inc.; FC4-16IP Blade for 48000 Director

Brocade Communications Systems Inc.; Brocade iSCSI Gateway

Cisco Systems Inc.; 9216A and 9216i Multilayer Fabric Switches

Cisco Systems Inc.; Linecard - IPS8

Cisco Systems Inc.; Linecard - MPS-14/2

Emulex Corp.; Model 725 iSCSI Storage Router

Emulex Corp.; Model 735 FCIP Storage Router

Hewlett-Packard Co.; StorageWorks 400 Multi-Protocol Router

SANRAD Inc.; V-Switch 3800 Enterprise iSCSI Switch

Woven Systems Inc.; EFS-1000 10GigE IP fabric switch
Read more on Networking hardware