IT professionals give Windows 10 Start button the thumbs up
A survey of European and North American IT professionals has found that the return of the Start button is the most enticing feature in Microsoft's latest operating system
Almost three-quarters (73%) of IT professionals plan to deploy Microsoft Windows 10 in the next two years, according to a Spiceworks survey.
The survey of 500 IT professionals, which has been published in the company's Windows 10: Will it soar? report, found that 96% of IT decision-makers are interested in Windows 10, and 60% of IT departments have tested or are actively testing Microsoft's latest operating system (OS).
The survey also found that 40% of companies plan to begin rolling out Windows 10 within a year of its release – set for 29 July – and an additional 33% expect to begin deploying the OS within two years.
Only 8% of IT decision-makers said they were interested in the touch-optimised interface, 6% cited Cortana speech querying, and 5% were interested in Hello, which Microsoft claims offers enterprise-grade security that meets the requirements of organisations with even the strictest requirements and regulations.
Microsoft has also made significant changes to the web browser, replacing Internet Explorer with Microsoft Edge. On a device with a stylus, Edge enables the user to write notes directly on the web page. For devices without a stylus, the keyboard and mouse can be used to make notes. These notes can then be shared with other people.
When asked about Microsoft's introduction of the Edge browser, 25% said they were somewhat to very positive, 23% said they were neutral, and nearly half said they didn't know enough about the new browser to have formed an opinion.
One of the Windows 10 features IT professionals rated highly is improved security. One of the big changes is the use of Azure Active Directory for single sign-on to the corporate network and cloud-based applications.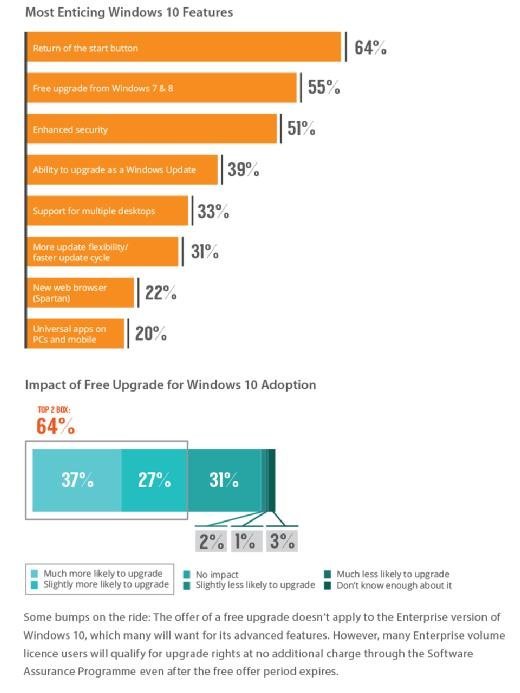 In a May post in the Windows blog, Microsoft's Jim Alkove wrote: "Users will be able to join their work Windows 10 devices directly to Azure Active Directory and sign into Windows using their Azure Active Directory account and password – while still having single sign-on access to Office 365 and to on-premise services that leverage Active Directory authentication. The devices can be automatically enrolled into a mobile device management (MDM) service at the same time."
According to Spiceworks, most IT professionals (67%) prefer to wait until initial bugs are fixed or the first service pack is released before adopting a new operating system.