Claude Wangen - stock.adobe.com
Government invests £200,000 to boost Scottish geospatial sector
The new Scottish Geospatial Network Integrator will work on developing opportunities in the geospatial services industry
The Cabinet Office has announced that the Scottish Geospatial Network Integrator (SGNI) will be created as part of a wider plan to develop the geospatial sector in Scotland.
SGNI is being established through a £200,000 joint investment from the UK Government Geospatial Commission, working with Scottish Enterprise and the Scottish Government. It is part of the UK's Geospatial Strategy, which was launched in June 2020.
The government considers Scotland's geospatial sector to already be significant, but noted that research by Scottish Enterprise has shown that more support is needed to encourage greater cooperation in the sector.
"Location data is used across society: from governments taking infrastructure decisions; shipping companies planning logistics; to public health," said Ian Blewett, head of digital economy at Scottish Enterprise. "The recent use of data around Covid-19 tracking is bringing the value of geospatial data into sharp focus, too.
"The Network Integrator project will bring together businesses, public sector and academia to create opportunities for innovation to benefit not only the economy, but also society, with data as an intrinsic part of efficient and impactful decision making," he added.
The SGNI will be run by Optimat, an independent strategy consultancy, and will enhance the use of location-based data across Scotland through building a dedicated network of geospatial organisations, as well as boosting collaboration and the profile of the Scottish geospatial sector.
With SGNI, it is expected that part of the estimated £11bn of value to the UK's economy each year from geospatial services will be unlocked, as the new body will be developing the supply chain and helping to develop potential growth opportunities.
Read more about technology in the Scottish government
In addition, the new body will be tasked with identifying and bringing organisations together who can help develop geospatial technologies.
"The Scottish Geospatial Network Integrator project is an opportunity to promote the innovation and entrepreneurship that exists in the growing geospatial and space sectors in Scotland," said Albert King, chief data officer at the Scottish Government.

"Scotland is already seen as a thriving and innovative place to conduct geospatial business," he said. "This initiative will help drive further investment in our world-leading tech industries, which are providing high value, skilled jobs and have an important role to play in Scotland's sustainable economic recovery."
Content Continues Below

Download this free guide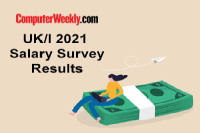 2021 UKI Salary Survey - Diversity Infographic
We take a look at our 2021 Salary Survey results from over 300 respondents who work in the UKI IT sector. We will be breaking down which job functions get paid what, what areas of IT companies will be investing in in 2021, the current diversity landscape residing in the UK tech sector and how the pandemic has effected IT staff.