alexlmx - Fotolia
Home Office completes initial test of online system for registering EU citizens
Online application process for registering EU citizens in the UK after Brexit has concluded initial trials, and will now be expanded to a wider group
The Home Office has completed its first test of the online application process for registering EU citizens after Brexit and will expand the trial to a wider range of European nationals working in the UK.
The initial private beta test involved 650 applicants across 12 NHS trusts in the northwest of England, and students and staff from three Liverpool universities, with that number expected to reach 1,000 people by the end of this month.
In a letter to the Home Affairs Committee, immigration minister Caroline Nokes said 95% of applicants who provided feedback said the process was "easy to complete" and took an average of 15 to 20 minutes. All those who applied for settled status in the UK were approved successfully.
"The technology has performed well, with a high proportion of applicants able to establish their UK residence based on the automated checks made against HM Revenue & Customs [HMRC] data and without having to provide any additional evidence," said Nokes.
"The initial private beta phase has enabled us to test successfully components of the online applications process. We now need to test that online process as an integrated end-to-end process, as this will be the means by which the majority of resident EU citizens and their family members will make their applications under the scheme."
A second private beta test will take place from 1 November to 21 December, to scale up the testing and target staff working in education, health and social care across the UK.
Nokes said the initial trial helped to make technical improvements to the system, such as changes to the data-matching capability for applicants to be automatically matched to HMRC databases and eventually Department for Work and Pensions data also.
The trials also included use of the mobile app that the Home Office hopes will make the process easier by scanning the biometric chips on passports to prove people's identity remotely. Nokes claimed that "most applicants [say] they would use this once more widely available".
Read more about Brexit and tech
The Home Office came under fire earlier this year when it emerged that the mobile app would only work for Android users because Apple does not allow third-party apps to access the near-field communication (NFC) capabilities needed to scan passport chips.
Responding to Nokes' letter, Home Affairs Committee chair Yvette Cooper said: "The government is right to pilot this important technology. We look forward to asking further questions about the progress the Home Office is making, as it still isn't clear when they will have tested the entire process, nor how the system will work at scale."
Cooper added: "This is, obviously, still a small-scale pilot. The committee's biggest concerns about the scheme have been whether the Home Office has a smooth system that can work for millions of people at once, and also whether they will be able to reach everyone to make sure nobody loses their rights."
Content Continues Below

Download this free guide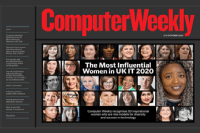 The Most Influential Women in UK Technology 2020
In this week's Computer Weekly, we announce our annual list of the Most Influential Women in UK Technology, and talk to this year's winner, Stemettes CEO and diversity campaigner Anne-Marie Imafidon. Meet our five Rising Stars and the latest entrants to our women in tech Hall of Fame. Read the issue now.