NicoElNino - Fotolia
NVidia aims to tackle UK's AI skills gap by educating year nine students
Computer chip developer is providing a teaching kit to educate students on artificial intelligence
Computer chip developer NVidia has launched an initiative to address the UK's skills gap in artificial intelligence (AI) by educating teenagers.
The project has been created in partnership with Computing at School (CAS), a company that promotes education about computer science. It will provide a teaching kit for year nine pupils (age 13 to 14) instructing them about AI terminology, use cases and the future of the technology.
Students will also be able to build and test their own neural networks, and Amazon Web Services (AWS) will support the initiative by providing cloud-based GPU instances for the students to test their neural networks.
The teaching kit includes activities and worksheets matching the requirements of Key Stage 3 of the National Curriculum and are designed for six one-hour lessons. Six schools have been chosen to take part in a pilot, and the kit will then be made available to all the UK's secondary schools.
James McClung, higher education and research business development manager at NVidia, said the aim of the initiative is to address the AI skills gap.
Job site Indeed found in October 2017 that there was only one suitable candidate for every 2.3 jobs in AI software development. Demand for such engineers has increased by 485% since 2014.
"Ultimately, the aim is to address the skills shortage that we're seeing within AI," said McClung. "There are never enough data scientists. Both industry and academia are trying to acquire people who understand how all of this works and, of course, it's up at the government level as well.
"This is of national importance because AI is a key technology for all nations."
Read more about the AI skills gap
McClung said the classes will clear up any confusion students may have about AI. "The best way we can help is by having them build neural networks themselves," he said.
"We are going to explain to them the value of data. We are going to explain the relationship between computing, data and software, and remove some of the mystery surrounding what the AI revolution is all about."
Beverly Clarke, a board member of CAS and leader of the initiative, said year nine students were chosen because they would already know some of the relevant concepts.
"We have chosen to go in at Key Stage 3 as this is where we can have lots of creativity in the secondary curriculum," she said. "It calls on topics they have learnt before, such as binary, logic gates, understanding of algorithms, understanding the concept of image and pattern recognition and generalisation. We are using that prerequisite knowledge, consolidating it and then they can get to grips with neural networks and deep learning."
Content Continues Below

Download this free guide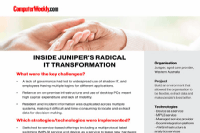 Project Brief: Inside Juniper's radical IT transformation
Western Australian aged care provider Juniper embarked on an aggressive strategy to completely transform its IT operations in just two years. This 1-page brief summarises how this overhaul has helped free up the resources needed to provide better quality of care for residents.