Chambers hands over a Cisco well positioned for the future
In the last set of quarterly results that John Chambers will preside over as CEO of Cisco the firm has delivered a strong performance
If you are going to take over a business where the departing CEO has been at the helm for two decades it's handy if the financial performance is in good shape.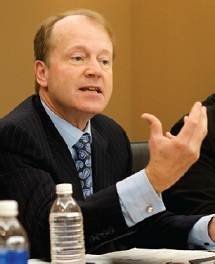 Chuck Robbins must have been pleased to see that in one of the last sets of results overseen by outgoing Cisco CEO John Chambers the networking giant is in a decent position.
Third quarter revenue at the vendor climbed by 5% year-on-year to $12.1bn with net income also improving compared to the same period in 2014 by 11.7% to $2.4bn.
The analyst call was a chance for Chambers to look back slightly further than just the three months ended 25 April and start to summarise where the firm is after his tenure as CEO.
"As I reflect back, I'm extremely honored and proud to have led Cisco for the last 20-plus years. We set out to change the way the world works, lives, learns, and plays. And while many thought this was a very ambitious and not unobtainable goal, we absolutely have achieved that goal. We have delivered incredible innovation and have disrupted markets and at times ourselves," he said.
He acknowledged that it had not been all plain sailing and there had been some ups and downs but commented that overall it had been able to see off most competitors and had kept its margins high thanks to its integrated architecture approach.
"What I am most proud of, however, is how well positioned we are to repeat the success of this last 20 years. Across every market and every industry, we are moving from the information age to the digital age, and the pace of change is only accelerating. Cisco is a very strong leadership position," he said.
Looking ahead Chambers said that the next big wave was around the Internet of Things where Cisco would play a major role.
"Cisco's momentum is strong, and we are extremely well positioned for the opportunities created by digitization. Every business and government leader is learning the benefits of becoming digital, growth, leadership, efficiency, productivity, conservation, safety, quality of life, and education, these outcomes that are at the core of what Cisco has enabled for the last 20 years. We wanted to use the Internet to change the way we work, live, learn, and play, and that's exactly what we've done in the past and what we will do even more in the future," he concluded.
When it came to getting a glimpse into the thinking of the next CEO there was an encouraging mention from Robbins about the channel.
When asked by analysts about the M&A strategy going forward the CEO designate said that it would take advantage of striking deals that were strategically aligned and would then turn to partners to make sure the deal was a success.
"We'll leverage our go-to-market, our scale, our channel to accelerate time to market," said Robbins.
"I want spend the next 90 days just talking to our leadership team, our employees, our customers, our partners, our shareholders, analysts to really just make sure that the theories and the things that I think we should be doing are in alignment," he added.