Phones 4u goes into administration after EE delivers final blow
Retailer Phones 4u will not be opening for business today after the big three service providers all back out
Phones 4u went into administration on Sunday night after mobile service provider EE decided to end its partnership with the company.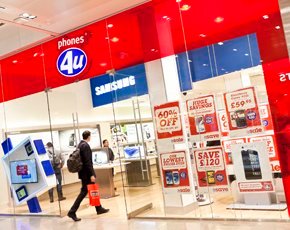 The retail chain's woes began when Vodafone announced the decision to discontinue its relationship two weeks ago. With Three having already left earlier in the year, Phones 4u's business model essentially collapsed overnight, leaving the management team no choice but to turn to administrators.
Phones 4u, which employs some 5,596 staff across the UK, has closed its doors to further business pending advice from appointed administrators PwC. The retailer has said that customers with pending orders will receive a full refund and employees will be paid until further notice.
A spokesman for EE said: "In line with our strategy to focus on growth in our direct channels and to move to fewer, deeper relationships in the indirect channel, and driven by developments in the marketplace that have called into question the long-term viability of the Phones 4u business, we can confirm that we have taken the decision not to extend our contract beyond September 2015."
The apparent collapse of Phones 4u leaves Dixons Carphone as the primary aggregator of mobile phone contracts in the UK. David Kassler, chief executive of Phones 4U, said that the lack of competition would ultimately lead to higher prices for customers.
"Today is a very sad day for our customers and staff. If the mobile network operators decline to supply us, we do not have a business," Kassler said.
The Phones 4u website today provides contact numbers for customers with questions and reads: "Following the unexpected decision of EE and Vodafone to withdraw supply from Phones4U, we regret that we are offline. Please accept our apologies and we will update you as soon as possible [...] Thank you for your custom, The heartbroken Phones4u Team."