Node4 cycling squad to ride Tour of Britain 2013
Node4-backed cycling team has unveiled its line-up for the 2013 Tour of Britain, which starts on 15 September
Six channel-backed professional cyclists will go head-to-head with names such as Bradley Wiggins and Mark Cavendish in this year's Tour of Britain.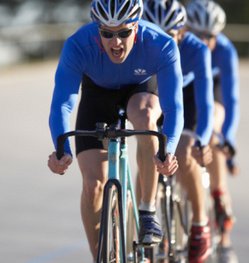 Datacentre and hosting specialist Node4 has been co-sponsor of the Node4-Giordana cycling team – run by ex-pro Malcolm Elliott – since December 2011.
Having undergone an MBO earlier this year and implemented a "regional" datacentre strategy to reassure SME customers that their data is close at hand, the firm is keen to raise its potential profile among customers.
This will be the second time the team has taken part in the Tour of Britain. It has already met with considerable success on the UK's roads, with former rider Pete Williams taking first place in last year's Yodel sprint competition.
The team's 2013 Kiwi-heavy starting line-up consists of Mike Northey, Roman Van Uden, Shem Rodger, Dan Barry, James Williamson and lone Brit Steve Lampier.
The race begins on 15 September in Peebles, Dumfries and Galloway, and will be contested over eight stages, rolling into London on 22 September.
Before the flag drops in Scotland, Node4 will also be in evidence at the Italian Grand Prix over the weekend of 7 and 8 September as a sponsor of the Marussia F1 team.