MicroScope's top stories, week ending 16 August 2013
Microsoft names first Brit Surface partners, Azlan and Avaya reunite, and Cisco cuts 4,000 jobs as recovery remains sluggish. Catch up on the biggest channel news stories from the past seven days
Microsoft has revealed the first tranche of resellers selected to handle business channel sales of the Surface family of PCs in the UK.
The announcement comes a month and a half after Microsoft officially launched its Surface channel strategy at its Worldwide Partner Conference in Houston, Texas, and named 10 US resellers to the programme.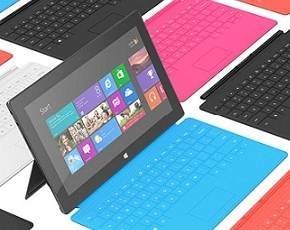 Despite good reviews, the Surface has yet to really take off, with Microsoft taking a $900m writedown on the product in July 2013.
The newly-designated crop of device-authorised partners that are eligible to transact Surface sales as of 15 August 2013 are CCS Media, Computacenter UK, Insight UK, Kelway, Misco UK, Phoenix Software, SCC UK, Softcat and SoftwareONEUK.
The selected partners will bring a number of value-added services to the Surface, including asset tagging, custom imaging, kitting, onside service and support, recycling and data protection.
The movement by the channel towards the managed services model is well under way with more than three quarters offering some option to customers and getting healthy doses of revenues from taking that approach to delivering ICT applications and support.
Just 28% of channel revenues are now coming from product sales
The latest Channel IT Priorities 2013 research from TechTarget gives a clear indication of the extent to which partners across the UK and Europe are adopting a managed services model with 79% revealing they offer something that fits the description.
More than half the revenues for the channel are now coming from a mix of consultancy and services with product sales, for so long the mainstay for many resellers, only accounting for 28%.
The channel has been in transition over the last couple of years with interest in managed services increasing as customers start to adopt the cloud and look for different ways to get applications, services and support delivered.
The government wants to put half of all new IT spending through small IT suppliers – doubling the previous target that was designed to break the oligopoly of major system integrators that dominate Whitehall IT.
The ambitious new objective was revealed in the Cabinet Office's latest report on progress to put 25% of government spending through small and medium-sized enterprises (SMEs) across all areas of purchasing, by 2015.
"Our ambition is that at least 50% of spend on new government IT flows to SMEs directly and in the supply chain. In exceptional cases where large IT contracts are required, we will expect at least 25% of the supply chain of those contracts to go to SMEs," stated the report.
Services provider Kelway has released a new cloud based Disaster Recovery-as-a-Service (DRaaS) solution.
ServiceWorks Assure will enable to securely and efficiently replicate VMware-based server workloads to the firms ServiceWorks Compute cloud infrastructure, in Kelway's UK-based datacentres.
Dell has confirmed its approval under all three Lots of the National Desktop and Notebook Agreement (NDNA) framework to provide consortia affiliated universities and colleges with computing solutions for student learning and development.
"IT is fast becoming a vital component to educational institutions looking to gain a competitive edge as they seek to attract a greater number of high performing students," said Kenneth Harley, director of education at Dell UK. "To do this, the provision of a personalised learning experience supported by best-in-class, affordable IT is crucial."
Two years after the duo parted ways, Computer 2000 enterprise unit Azlan SDG has been given access to Avaya's full suite of business collaboration and comms solutions in the UK market, after the two firms extended an existing European arrangement.
John Zanni, vice president of service provider marketing and alliances at Parallels, tells us why he thinks a back-to-basics approach will help the channel win more SME cloud businessParagraph here
A Microsoft Azure-based cloud platform supplied to higher education admissions body UCAS by reseller IPL has passed its first major test - A-Level results day - with flying colours, the firm has reported.
A new study has revealed that the channel is not realising the full potential of renewal business.
Cisco will cut 4,000 jobs, or 5% of its workforce across the organisation, saying its hand has been forced by the slow pace of the global economic recovery.
ANS founder and chairman Scott Fletcher is to lend his expertise to a UK Trade and Investment (UKTI) festival designed to encourage potential entrepreneurs to start their own businesses.