Microsoft names first UK Surface partners
Big channel names including Computacenter, Kelway and Softcat picked to resell Microsoft Surface in the UK
Microsoft has revealed the first tranche of resellers selected to handle business channel sales of the Surface family of PCs in the UK.
The announcement comes a month and a half after Microsoft officially launched its Surface channel strategy at its Worldwide Partner Conference in Houston, Texas, and named 10 US resellers to the programme.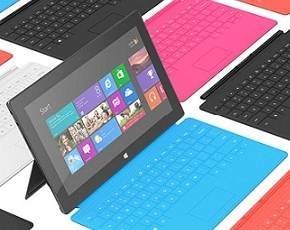 Despite good reviews, the Surface has yet to really take off, with Microsoft taking a $900m writedown on the product in July 2013.
The newly-designated crop of device-authorised partners that are eligible to transact Surface sales as of 15 August 2013 are CCS Media, Computacenter UK, Insight UK, Kelway, Misco UK, Phoenix Software, SCC UK, Softcat and SoftwareONEUK.
The selected partners will bring a number of value-added services to the Surface, including asset tagging, custom imaging, kitting, onside service and support, recycling and data protection.
Distribution will be handled by sector stalwarts Computer 2000 and Ingram Micro, according to Microsoft UK director of devices, SME and Partners Group, Peter King.
"Our selection criteria was based around deep device capability and coupled with that, deep vertical expertise," he said.
King said that the selection process, which was open to all comers, had thrown up huge levels of interest, but said that Microsoft had wanted to keep the first wave of resellers at a more manageable level.
He would not be drawn on when, or if, further Surface partners would be added to the programme. However, he said, the selection process had given many other partners an opportunity to learn more about Microsoft's device strategy, and for Microsoft in turn to learn about their businesses, which could lay the foundations for future programme enhancements.
King added: "The Surface is but one device in a plethora of Windows 8 devices. If partners want to build more of a capability around devices, there are thousands of others from our OEM partners to choose from."
"This is a great opportunity to expand our current enterprise mobility offering whilst extending Microsoft's reach and market share," said Softcat Microsoft business director Ian Goodwin.
"The Surface RT and Pro tablets are perfect for our current customer base, many of whom are seeking light, durable mobile devices with accessible, easy to use applications."
Sam Mudd, director at Phoenix Software, added: "With the Surface Pro being seen as a PC replacement, we can now provide customers with a true alternative to the traditional desktop PC – at a price-point that they have grown to expect from a trusted partner like Phoenix Software."