MicroScope's top stories, week ending 12 April 2013
Our regular look back at the most important channel news stories from the past seven days, as selected by MicroScope readers
Windows 8 has not only failed to boost the critically ill PC market, it may actually have stabbed it in the back.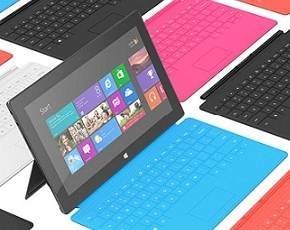 This is just one of many concerning findings contained within two separate reports on the state of the worldwide PC industry, released in parallel by analyst powerhouses IDC and Gartner.
IDC programme vice president of clients and displays, Bob O'Donnell, delivered the damning assessment of Microsoft's latest operating system as he detailed another terrible quarter for the PC industry.
"The radical changes to the UI, removal of the familiar start button and the costs associated with touch have made PCs a less attractive alternative to dedicated tablets and other competitive devices," said O'Donnell.
"Microsoft will have to make some very tough decisions if it wants to help reinvigorate the PC market," he added.
Microsoft and Fujitsu UK & Ireland have joined forces to drive Microsoft's raft of new products into UK businesses.
Fujitsu's support will manage implementation and deployment, and deliver time and cost savings
The partnership aims to generate an estimated income of £500m over three years for Fujitsu as it positions itself as value-added partner of Microsoft capable of helping enterprises get the most out of Microsoft products.
Fujitsu has ploughed £4.5m into the partnership via a 'Centre of Excellence' that both companies are jointly operating. Microsoft has released a spate of new products recently, including Windows 8, Windows Phone 8, Office 2013 and Office 365, Windows Server 2012 and more.
By building on its partnership with Fujitsu, Microsoft is hoping to drive its products deeper into the UK business space. Nick Corrigan, the company's general manager for enterprise services, claims there has been a rising tide of demand from customers and as such the support of Fujitsu has been enlisted to manage implementation and deployment, and deliver time and cost savings.
The clock is ticking on those users that are still booting up Windows XP systems with the end of support looming in a year's time with many running the risk of not migrating to a more up-to-date OS before Microsoft flicks the switch on its old operating system.
Monday 8 April marks the start of the countdown to when Microsoft switches off support for the OS, which it launched back in 2001, as it tries to encourage customers to upgrade to the latest Windows 8.
The problem for many customers is not around awareness of the end of support but in making the migration away from XP in time, with many now facing little chance of making a migration of corporate desktops in an orderly fashion.
IBM Global Financing (IGF) has launched a new mobile financing app to help its UK business partners exploit some of the inherent advantages of financing programmes.
The Rapid Financing App – which is already well in use in China and the US – touches down in Blighty today on BlackBerry, Apple iOS, Windows Mobile and Android platforms.
Colt has formally launched a new converged information and communications technology services platform pitched at 25 to 500 seat installations, formed partly from its August 2012 acquisition of Brit cloud platform provider ThinkGrid.
Research from Camwood questioned 250 CIOs, CTOs, IT Directors and IT managers across large enterprises of over 2,000 staff and shows that less than half the organisations questioned have started migration away from the operating system despite Microsoft's advice that an 18 to 30 month window is preferable for successful transition away from XP.
Magirus CEO Fabian von Kuenheim is stepping down from the post six months after the firm he has helmed for a quarter of a century was acquired by Avnet.
The fallout from the Autonomy purchase and subsequent write-down has claimed a major scalp with Hewlett-Packard's chairman Ray Lane opting to resign from his position.
Gary Calcott from Progress Software says that with widespread 4G just around the corner, now is the time to address how specialist mobile apps could help your business.
IT and computing grew from being the second most in-demand skills area, out of ten key industry sectors in March 2012, to the first, according to the survey from the Recruitment and Employment Confederation (REC).
Micro P has announced that former sales director Paul Bryan has been appointed as managing director as the distributor passes the £1bn turnover level.