SICL keeps Yorkshire Air Ambulances flying
SICL has renewed its services and support agreement with the Yorkshire Air Ambulance (YAA) to provide £170,000 worth of hardware and services to the charity through 2018
SICL has renewed its services and support agreement with the Yorkshire Air Ambulance (YAA) to provide £170,000 worth of hardware and services to the charity through 2018.
The Leeds-based Cisco partner has been providing IT support and services gratis for the past five years, having previously supported the organisation as its chosen charity.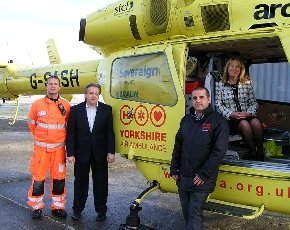 SICL reckons it has saved the charity over £125,000 in that time, and the renewal of the agreement provides for a needed expansion of the charity's IT infrastructure. The firm also gets to feature its logo on YAA's two helicopters, G-SASH and G-CEMS, which are based at Leeds Bradford International and RAF Topcliffe.
YAA operations manager Neale Jacobs said that the sum of £170,000 would be enough to keep the organisation's fleet airborne for three weeks. According to its own statistics, YAA has to raise £7,200 every day to keep its head above the water.
"We have to fundraise each and every day of the year to keep the charity running, so savings of this nature really are significant and allow us to spend donated funds on keeping both of the helicopters maintained and in the air," said Jacobs.
SICL managing director Cliff Fox added: "We have a great admiration for the Yorkshire Air Ambulance, operationally, personally and ethically. We're all very proud to support the YAA< who save lives in the region in which we live and work."
Read more on Managed IT Services