Infosecurity Europe: product review
In an age when most people argue that the internet has started to replace everything, it is reassuring not only to walk the halls of an exhibition and do business with real people, but also to see the products.
In an age when most people argue that the internet has started to replace everything, it is reassuring not only to walk the halls of an exhibition and do business with real people, but also to see the products.

Download this free guide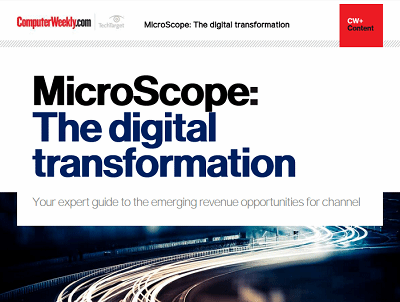 Emerging revenue opportunities for the channel with digital transformation
Digital transformation is a phrase that means many things to many people but for it to have any real relevance to the channel then it needs to mean a chance to make money. This guide will share some of the recent developments in the channel and the latest thoughts about the issue.
Later this month the great and the good from the world of security will meet in London for the InfoSec show and for those resellers that are planning to spend some time at the event there are plenty of product releases on show.
Absolute Software
The vendor will showcase ComputraceOne, which automatically tracks stolen laptops and works with the police to recover the mobiles. It also allows for sensitive documents saved on a laptop to be deleted remotely.
Aladdin Knowledge Systems
The specialist in software rights management, strong authentication and content security solutions will be showing a new release for Aladdin eSafe 6, which offers dual engine protection against spam and malware. Version 2.0 of Aladdin Web Threat Analyzer will also be demonstrated, featuring a revised interface and search technology to help identify security weaknesses and allow proactive implementation of security solutions.
AN4 Group
The company will be talking about its partnership agreement with Security Alliance, which offers a range of security services ranging from risk assessment through product implementation to penetration testing and certification. The partnership also delivers a full range of managed security services including identity management, security testing, infrastructure vulnerability management, security infrastructure monitoring, intrusion detection and prevention. Security Alliance will be joining AN4 Group at Infosecurity 2008.
More on firewall comparisons
Firewall comparison: Packet-filtering firewalls versus proxy firewalls
Aruba Networks
Aruba will showcase a series of explosion-resistant Wi-Fi access points targeted at industrial applications and a generation of ultra high performance, secure wireless switches and 802.11n access points.
Astaro
The vendor is launching the Astaro Web Gateway, an all-in-one product to secure and control web access. This solution includes URL filtering, malicious code detection, application controls and bandwidth optimisation so that companies and public bodies are able to secure their web traffic with a single, cost-effective and easy-to-use appliance.
Billion
The stand will include the BiGuard S6000 dual-WAN security gateway appliance, which integrates IPSec and SSL VPN technology into one box. It builds on the BiGuard S20, and is designed for larger deployments within the SME sector, for 500-1,000 employees.
Bloxx
The UK web filtering specialist will be presenting its Tru-View Technology (TVT) that uses internationally patent pending technology to analyse and block websites quicker and more accurately than other web filters.
Check Point
Fresh from its channel partner rejig, which no doubt will be discussed on the stand, the main focus will be around Endpoint Security 7.0, the single agent for total endpoint security that combines firewalling, NAC, program control, anti-virus, anti-spyware, data security and remote access security.
Core Security Technologies
Core Security will be demonstrating a real-time penetration test of a remote network at the show. The company will also be actively talking to potential channel partners to help expand its fledgling European operation as well as briefing on its technology and work with the UK's growing community of EC-Council Licensed Penetration Testers.
DigitalPersona
The fingerprint authentication specialist will be talking about all the hot issues in the biometrics and authentication market. In addition, it will be offering advice on the best use of biometrics for maximising security.
Finjan
The vendor will launch Secure Web Gateway version 9.0, which prevents crimeware and Web 2.0 attacks using its patented active real-time content inspection technologies. Malicious inbound and outbound content is prevented based on the code's intended criminal action; not on signatures, URLs or reputation attributes. Inspected content hiding in HTTPs/SSL traffic remains encrypted when entering and exiting the appliance.
InfoGuard AG
The company is a member of the Swiss Crypto Group and will be showing off its high-speed extremely low latency network security products, supporting protocols such as Ethernet, SDH, Fibre Channel and Ficon. Speeds range from 200MB/s to 10GB/s and the products can support up to 10 channels simultaneously over a single 10GB/s MAN-WAN connection.
LANDesk
The stand will be used to showcase Version 8.8 of LANDesk. The new release is designed to help customers secure and manage enterprise systems by adding new real-time software distribution, licensing monitoring, alerting, provisioning and reporting tools.
Lumension Security
Resellers keen to hear more about PatchLink Security Configuration Management will find more details about how the product provides assessment, remediation and reporting of secure configuration checklists in line with global industry standards.
Magirus
The distributor is attending the show for the first time and will be launching its encrypted virtual machine on a USB stick. The software is based on VMware's Assured Computing Environment and is aimed at resellers who target companies with a high proportion of mobile, remote workers and contractors.
Marshal
Secure email and web gateway security provider Marshal will be previewing WebMarshal 6.1, a web security solution that delivers ISA server integration, HTTPS content scanning for SSL-encrypted web content, and improved web application control over instant messaging and streaming media to better manage employee internet use.
A real-time dashboard allows administrators to see the number of active users, proxy request latency and breakdowns of web usage by category, among other statistics.
Mimecast
Mimecast will be previewing the latest version of its web-based unified email management service. It is fully integrated with Microsoft Outlook and offers email security, archival and continuity of service, including 24/7 access to all incoming, outgoing and archived emails even in the event of planned or unplanned server outages.
nCipher
The company will be featuring the latest version of KeyAuthority, its enterprise key management solution that replaces manual processes for organisations that want to expand the role of encryption across their corporate networks.
PineApp
The vendor will be unveiling a high end email security solution for larger corporate enterprises and ISPs with enhanced high availability, domain administration and content filtering supporting over 200 attachment types.
Proofpoint
The company will be showcasing its Proofpoint on Demand product, which delivers unified email security and data loss prevention features as a hosted service for enterprise messaging infrastructures.
Protegrity
Protegrity will be demonstrating its newly released Defiance Software Security Suite v4.4, which secures data and applications across multiple platforms, from acquisition to deletion.
Qualys
The company will introduce a policy compliance management solution, which builds on the existing software-as-a-service platform, delivering vulnerability management and policy compliance in a single module. It provides, via a browser, a consolidated view of an organisation's security and compliance.
ScanSafe
The vendor will showcase Anywhere+ - a software-as-a-service web security service providing real-time protection from malware and enforcement of acceptable internet usage policies for all users surfing the web regardless of their location.
SmoothWall
SmoothWall will be showcasing its newly released 2008 range of software and hardware appliances, including upgraded versions of its firewalls and Guardian web content filtering software. The 2008 versions offer monitoring for instant messaging applications and enhanced reporting, logging and configuration capabilities with
real-time traffic logs and graphs.
Sophos
Another stand that will cover the topical issue of endpoint security. Its Endpoint Security & Control 8.0 product incorporates NAC, firewall, malware protection and defence against unauthorised software. Simplifying tasks and reducing resource requirements, businesses can automatically manage networks running Windows,
Mac and Linux.
SSH
The company will showcase Tectia Server 6.0 for IBM z/OS - an enterprise-class security solution to quickly and cost-effectively secure mainframe file transfers and
data-in-transit without any modification to existing FTP file transfer jobs, IT infrastructure or applications.
UBIqube Solutions
The global managed security services solutions provider will launch its plug and play Security Operations Centre solution, SmartSOC, an all-in-one security management appliance.
WatchGuard Technologies
The unified threat management (UTM) specialist will be showcasing its Firebox X Peak, Core and Edge UTM appliances with the release of its Fireware 10 and Edge 10 operating systems, optimised for complex network connectivity schemes with
high-reliability, functionality, hardened security and greater administrator management and ease of control.
Wick Hill
Wick Hill will be showing a range of new and updated security solutions covering security management, e-mail security, unified threat management (UTM) and strong authentication. Other areas where Wick Hill is exhibiting include web gateway and content security, anti-spyware and anti-crimeware, encryption and data leakage protection, and mobile, wireless and remote security.
Also featured are new supplier launches from CRYPTOCard (strong authentication) and 8e6 Technologies (web filtering), as well as new solutions and new versions from companies such as Barracuda, Check Point, Finjan, Imprivata, Kaspersky, Utimaco WatchGuard and VASCO.
Read more on Topics Archive