Axe to fall on marketing jobs
How important is marketing to businesses that want to survive and prosper in what could be an increasingly gloomy 2009? The message coming from IT companies is mixed at best, according to the latest Marketing Trends Survey from The Chartered Institute of Marketing (CIM).

Download this free guide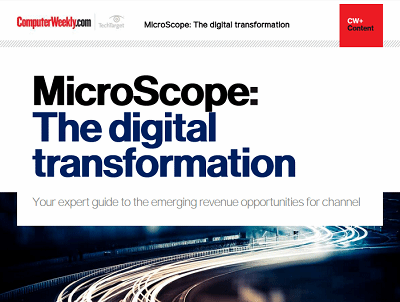 Emerging revenue opportunities for the channel with digital transformation
Digital transformation is a phrase that means many things to many people but for it to have any real relevance to the channel then it needs to mean a chance to make money. This guide will share some of the recent developments in the channel and the latest thoughts about the issue.

By submitting your personal information, you agree that TechTarget and its partners may contact you regarding relevant content, products and special offers.

You also agree that your personal information may be transferred and processed in the United States, and that you have read and agree to the Terms of Use and the Privacy Policy.



How important is marketing to businesses that want to survive and prosper in what could be an increasingly gloomy 2009?

The message coming from IT companies is mixed at best, according to the latest Marketing Trends Survey from The Chartered Institute of Marketing (CIM).

Conducted by Ipsos MORI, the survey of more than 1,200 marketing professionals found that IT and telecoms are more or less in line with other sectors including financial, manufacturing and retail, distribution and leisure, when it comes to allocating resources to marketing. Just over half of the companies surveyed devote up to 5% of their annual turnover to it.

But marketers in IT and telecoms believe they are more likely to face job losses in the current sales year. Close to a quarter think the size of their marketing function will reduce by the end of the sales year – twice as many as in the last survey, which was conducted in the spring.


Pessimistic outlook
In a further sign of deteriorating confidence, only 10% expect to be recruiting marketing staff in the coming year, compared with just over a third in the spring. In addition, as many as 36% think conditions for their own organisation will worsen in 2009, well up from the 10% who had a pessimistic outlook in the spring survey.

David Thorp, director of research and information at CIM, says: "It is disappointing to see such widespread job cuts anticipated in the IT sector."

He adds: "Technology companies need to understand that IT marketers have a key role to play in helping their organisations identify and exploit the opportunities a recession brings."

This might prove difficult, as it has been long recognised that many IT businesses, especially smaller ones, have little or no marketing function of their own. If they are unable to devote the resources or time to marketing at a time of economic growth, it could be even more difficult to get them to do so when conditions are deteriorating.

Certainly, many vendors have tried to address this problem by providing channel partners with access to as much marketing material and collateral as
they can.

Nevertheless, when asked if they viewed marketing as key to their future prospects in the economic downturn, over a quarter of companies responding to the survey said they strongly agreed with the statement and just under 40% said they tended to agree.


Challenging plans
But is interesting to note that 58% of those surveyed in the IT and telecoms sector also view their company's sales or performance plan for 2009 as "very challenging" or "challenging".

Thorp says, "Professional marketers in the IT sector need to create real value for their organisations and measure the effectiveness of their marketing activities, if they are to demonstrate how indispensable they are to their organisations."

However, the signs are that IT companies are starting to get a view of the value of certain marketing activities. Marketers in technology and telecoms consider customer relationship marketing, lead generation, branding and email as the most effective forms of marketing.

Some 12% of respondents said they spend up to a fifth of their total marketing budget on advertising. In a measure of how the web has picked up, a significant 22% reported spending as much as a fifth of their total marketing budget on online advertising.

Branding also scored highly, with over a quarter devoting up to 20% of total marketing resource to it and one in 10 firms spending between 21% and 50% on branding. Almost 30% spent between 11% and 20% of their budget on PR.

With most predictions for 2009 painting a relatively bleak picture, marketing could become increasingly important to many companies but there are significant challenges ahead in terms of delivering value and return on investment. No amount of advertising or PR is going to alter that reality.

Read more on Sales and Customer Management