SNW Roundup: Sun adds data deduplication to VTL
Sun comes out with VTL Prime, a virtual tape library with FalconStor's data deduplication; Attune gets into file archiving; and SGI, Fujitsu and Dot Hill launch storage systems.
Sun Microsystems has launched its first virtual tape library (VTL) with data deduplication at Storage Networking World, which is being held in Orlando, Florida, this week.

The Sun StorageTek VTL Prime is the third member of the Sun open VTL platform, but the first to use FalconStor's Single Instance Repository (SIR) deduplication feature. The product is already available on a limited basis, but Sun has given no general availability date so far.

Download this free guide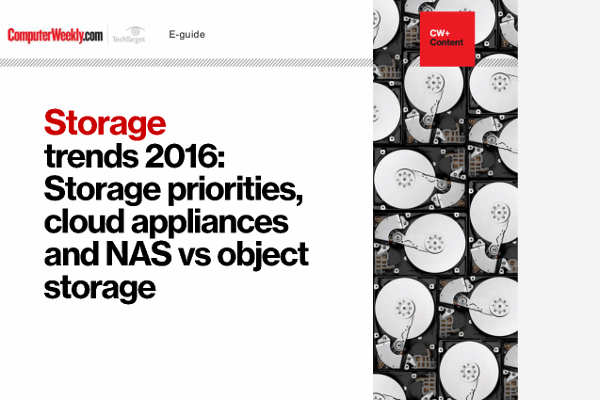 Storage trends 2016: Storage priorities, cloud appliances and NAS vs object storage
Our guide to the latest shifts in the Storage to-do list for IT departments, cloud appliance providers, and what to do with large volumes of unstructured data
By submitting your email address, you agree to receive emails regarding relevant topic offers from TechTarget and its partners. You can withdraw your consent at any time. Contact TechTarget at 275 Grove Street, Newton, MA.
You also agree that your personal information may be transferred and processed in the United States, and that you have read and agree to the Terms of Use and the Privacy Policy.

Every conversation we have with customers around VTL, data dedupe is part of it
Dan Albright
senior product manager for VTLSun Microsystems
Sun's other VTL products, Sun StorageTek VTL Value and Sun StorageTek VTL Plus, also use FalconStor's virtual tape software, but not SIR.

Sun is the first major storage vendor to qualify FalconStor data deduplication. EMC and IBM also use FalconStor software for their VTLs, but they are seeking alternatives for deduplication. EMC has struck a deal – not yet announced – to OEM Quantum's data deduplication with its Disk Library VTL product, and IBM is reportedly in negotiations to acquire VTL vendor Diligent Technologies for its deduplication technology.

One thing is certain, data deduplication is becoming a mandatory feature in VTLs. "Every conversation we have with customers around VTL, data dedupe is part of that conversation," said Dan Albright, Sun's senior product manager for VTL.

Quantum and Sepaton offer their own versions of data deduplication with VTLs, while Hitachi Data Systems, Copan Systems and Overland Systems have OEM deals with Diligent or FalconStor for deduplication.

Like Sun's VTL Plus, VTL Prime is built on Sun Fire X4600 servers and the Sun StorageTek 6140 midrange disk array. (The low-end VTL Value uses Sun's Thumper hardware). VTL Prime uses 24 GB to 96 GB of memory, compared to 32 GB for VTL Plus. While VTL Plus supports 896 drives, VTL Prime with dedupe tops out at 64 drives (64 TB). Albright said that VTL Prime should provide an average dedupe ratio of 20:1, depending on the type of data and frequency of the backups.

Pricing for VTL Prime begins at £20,000 for 3 TB of usable capacity. Albright said that 42 TB of usable capacity costs around £150,000.

Albright said that Sun is satisfied with FalconStor's SIR and never seriously considered using another vendor's data deduplication. He also said FalconStor's post-process deduplication played no role in the choice, because he considers both inline and post-process deduplication efficient.

Sun isn't the only tape vendor to sell VTLs and data deduplication – technologies originally developed to eliminate the need for tape. But Sun is the largest physical tape vendor by way of its 2005 acquisition of StorageTek. Albright said that tape continues to have a strong presence in the enterprise, especially for archiving. "Data deduplication has really been successful at the small end of the market, and now it's moving upstream to environments that have tape," he said. "But there's still a strong desire for tape in the enterprise."

Other product news at SNW:

Attune gets into archiving

Attune Systems rolled out an entry-level virtualisation system and a file archiving system that serves as an e-discovery repository.

The Maestro File Manager-Entry System (ES) is a scaled-down version of Attune's Maestro File Management system. The ES allows customers to copy, move or delete files based on search criteria; supports some migration projects; and monitors storage growth. But the ES lacks the more advanced tiered storage and active-active clustering capabilities features of Attune's higher end systems. Pricing begins at £7,500 and it will be available in May.

The Maestro Intelligent Archive Manager (MIAM) allows customers to view files through different views, such as by server, date or file owner. The idea is to help prepare electronic evidence for litigation. MIAM is a 1U appliance with two dual-core processors and six Ethernet connections.

MIAM is for files only and does not archive email or other structured or semi-structured data. "Most archiving systems focus on email, Sharepoint and other semi-structured data," said Bill Katz, Attune senior product manager. "We come at it from the file system side." The archiving system will be available this summer. No pricing is available yet.

Xiotech takes ISE office

Xiotech will unveil its new storage systems based on RAID patents it acquired from Seagate last November. Xiotech hasn't given any details on its new systems, but its website homepage touts new systems based on Intelligent Storage Element (ISE) technology.

Xiotech bought Seagate's Advanced Storage Architecture (ASA) and with it, a 100-person engineering team led by Steve Sicola, who became Xiotech's chief technology officer after the deal. Analysts with knowledge of the ASA technology describe it as a "self-healing" disk array.

Compellent upgrades SRM

Compellent Technologies added automated usage reports for chargeback, as well as reports that show how much capacity and power an administrator is saving through thin provisioning to its Enterprise Manager 3.1 storage resource management (SRM) software.

Enterprise Manager also allows customers to recover some space that Windows typically holds even after files are deleted. Bruce Kornfeld, Compellent marketing vice president, said customers have frequently asked for chargeback and green reports built into SRM. "Many CIOs have had to turn to third-party SRM software because they haven't been able to get insights into their storage."

Fujitsu rolls out unified storage appliance

Fujitsu Computer Systems launched its UDS2000 unified storage system, which is built on technology from its Eternus 2000 entry-level system and the Windows Unified Data Storage Server (WUDSS) 2003. The system scales to 54 TB and supports CIFS, NFS and iSCSI, and SATA and SAS drives. Pricing begins at £15,000 for 4 TB and will be available next month.

SGI extends InfiniteStorage line

SGI is upgrading its high-performance computing platform with the InfiniteStorage 4600, a system for high I/O workloads that supports 256 Fibre Channel or SATA drives. The 4600, built on LSI controller technology, has 16 redundant 4 Gbits Fibre Channel drive channels and supports 20 Gbps InfiniBand. Raj Das, SGI's vice president of storage, said the 4600 will support 8 Gbits Fibre Channel and 40 Gbps InfiniBand when they are widely available later this year. Pricing for the 4600 starts at £87,500, but Das said the average system configuration will run around £200,000.

Dot Hill launches SAS system

Dot Hill unveiled its 2530 SAS RAID storage system and said that eight of its OEM partners are sampling the system. The 2530 includes two SAS interfaces per controller to internal SAS or SATA II disk drives with 1 GB of mirrored cache per controller. The 12-drive 2U system supports up to 56 SAS and SATA drives, scaling from 1.7 TB to 256 TB. It also includes snapshots and volume copy for data protection.

Dot Hill's OEM partners include NetApp, Sun and Hewlett-Packard, but SGI gave no indication of which partners are sampling the system.

Movidis unveils unified storage for OEMs

Movidis is sampling its Universal Networked Storage (UNS) system that supports NFS, iSCSI and Samba Linux for OEMs. The system includes a multicore Octeon MIPS-based motherboard from Cavium Networks and eight-port LSI controller for SATA and SAS.

Movidis CEO Ken Goldshall said the company added an upgraded processor and more connectivity options to the motherboard, which he said is sold by about 20 OEM partners. "We have an iSCSI target, NFS and different Linux utilities all ready to go, stored in cache," he said.

EMC brings WysDM inhouse

EMC acquired its data protection management OEM partner WysDM for an undisclosed price. EMC has sold WysDM's backup monitoring software as EMC Backup Advisor since 2005. An EMC spokesman said WysDM's 40 employees will join EMC, with WysDM CEO Alan Atkinson reporting to EMC Information Management Software Group senior vice president Mark Sorenson.

Storwize introduces new compression platform

Storwize upgraded its compression products to a 64-bit architecture with the Storwize P Series. The P Series includes three models: the entry-level 6300p, the enterprise 6500p, and the 6800p for compressing large files.

ROBObak adds CDP, bare-metal restore

ROBObak rolled out ROBObak 8 with the addition of agentless continuous data protection (CDP) and remote bare-metal recovery for restoring images from a crashed computer to a machine at another site. ROBObak claims its new version also automatically senses computers added to the network and adds them to scheduled backups. Pricing for ROBObak 8 begins at £12,500 per terabyte of protected data.

BakBone, Asempra team up

Data protection vendors BakBone Software and Asempra Technologies have signed a technology partnership agreement to jointly develop and market software. The combined products will integrate BakBone's backup software with Asempra's CDP for Windows applications and file systems.

StorMagic revamps pricing

StorMagic added support for LSI MegaRAID SAS/SATA adapters and lowered the pricing of its iSCSI SAN software for VARs. StorMagic's new pricing starts at £1,500 per appliance, supporting two Windows servers and unlimited storage capacity. StorMagic previously charged by capacity, beginning at £4,000 for 3 TB.

Intel, LSI forge RAID agreement

Intel and LSI said they have an agreement involving Intel's open "Treemont" RAID technology and LSI MegaRAID software. The two vendors didn't release many details, but said the engineering agreement will result in a combined solution to provide data protection for business-critical data on Intel workstations and servers.

EMC unveils Centera development kit

EMC said it will make a Centera software development kit for XAM available in August. XAM (eXtensible Access Method) is a software framework being developed by the Storage Networking Industry Association (SNIA) to enable interoperability between fixed content storage systems from different vendors.

3PAR upgrades capacity management

3PAR added support for Oracle Database 11g to its System Reporter Web-based capacity management application for its InServ Storage Servers. Oracle Database 11g is supported as an optional database and sold separately.

Wasabi adds 10-GigE to iSCSI SAN

Wasabi Systems pledged to support 10-Gbit Ethernet in its Storage Builder iSCSI storage operating system from next month. Wasabi's software lets OEMs and system builders turn off-the-shelf hardware into iSCSI SANs.