VMware to open second UK datacentre
VMware is opening a second UK datacentre as it responds to more demand from customers for hybrid cloud services
VMware is cutting the ribbon on a second UK data centre, just months after opening its first one in the country, as it looks to provide more support for European customers moving to the cloud.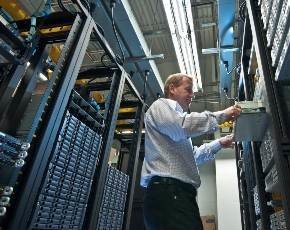 The firm opened a data centre in Slough in February and is now adding a second facility in Chessington to support customers across Europe at the same time as expanding its vCloud Hybrid Service (vCHS).
The vCHS service was launched earlier this year as a platform for customers to use for project work but the vendor has noticed that it has been used for more strategic reasons by customers and is reacting to that changing demand.
The vendor is now adding disaster recovery and data protection to the service to make it more attractive for users looking to use it with more sensitive information.
"Our customers have started off using our hybrid service on specific projects for the easy, affordable and seamless movement of workloads between private and public cloud, knowing they can move their legacy and new applications back and forth with ease," said Gavin Jackson, general manager and vice president, Cloud Services, EMEA, VMware.
"Now they have seen what VMware vCloud Hybrid Service can enable, they're turning to it to power their strategic transformation programmes. It's driving real change in the business and enabling organisations to consume services in a totally new way," he added.