Customer relationship management benefits for SMEs
Every big business was a small business once. Therefore, selling to the present-day minnows will put you in pole position for selling to tomorrow's whales. They won't all make that leap - some won't want to - but the next generation of big beasts is out there.

Download this free guide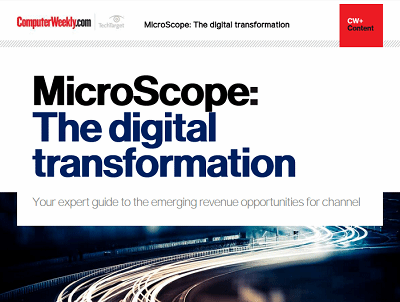 Emerging revenue opportunities for the channel with digital transformation
Digital transformation is a phrase that means many things to many people but for it to have any real relevance to the channel then it needs to mean a chance to make money. This guide will share some of the recent developments in the channel and the latest thoughts about the issue.

By submitting your personal information, you agree that TechTarget and its partners may contact you regarding relevant content, products and special offers.

You also agree that your personal information may be transferred and processed in the United States, and that you have read and agree to the Terms of Use and the Privacy Policy.

Every big business was a small business once. Therefore, selling to the present-day minnows will put you in pole position for selling to tomorrow's whales.

They won't all make that leap - some won't want to - but the next generation of big beasts is out there. Customer relationship management (CRM) is a system that lends itself to helping the smaller business expand.

Its basic purpose - focusing a business on its customers - reflects the attitude of small business owners, while its features plug holes in the small business armoury.

Watch out for barriers

But there are barriers to success. Selling to small businesses is different from selling to larger more established operations.
In the first place, there is unlikely to be an in-house IT expert. That said, small business owners are increasingly IT savvy.

Who do you target? There is no simple answer.

Everyone in a customer-focused company can act as an ambassador for that firm and has the ability to encourage the adoption of CRM for their business.

From the managing director who is keen to ensure the success of the business, to the finance director who wants to ensure an efficient attention on the right customers, or the service manager who is responsible for keeping customers happy for longer, every one has a role to play.

Engage stakeholders

It's therefore critical that all of these stakeholders be engaged with throughout the sales process and that they each understand how the insights from CRM can help them in their role and benefit the company.

There are appropriate systems and software available for any business, regardless of size or sector.

In an increasingly competitive world, where customer service and efficiencies act as key differentiators, every sector could benefit from introducing CRM software.

Equally, the enthusiast who drives the introduction of CRM could have many different titles. Still, if I have to point my finger at one person that would be the sales director/manager. He or she should have the sharpest customer focus among managers and probably one of the loudest voices when expenditure is considered.

In the small business, no new business quickly means no business.

The pitch

So what's the business pitch? This shouldn't need saying, but it so often does: benefits, benefits, not features, features.

In the small business, that has to be benefits for the individual, as least as much as the company. Herein lies a key difference in selling to the smaller business.

Where there are only ten employees, 'how does this help me' becomes at least as important as 'how does this help us.'

Because CRM acts as a single repository for holding every important contact, document, phone call and e-mail associated with a particular company contact, it enables users to work as a more co-ordinated unit.

Helping them to see all customer histories and enabling them to progress current customer deals, without having to ask Sid what's happening in goods outward or Doris whether payments are up-to-date is a very big benefit.

Big impact

Simplifying the team-working of a small business, reducing the time involved in fulfilling an enquiry is where the magic is.

Taking those 'me, Sid and Doris' conversations out of the week's work has a big impact on the total time available for employees of smaller businesses (and therefore their profit contribution), in a way that doesn't apply up the size scale.

It is uniformly agreed that a quick win is key to convincing everyone about CRM and it is equally agreed that the best available quick win is reporting.

"It's a waste of time" is the classic comment regarding management reporting. Telling - and selling - the point that you don't have to do it any more is the ultimate 'gimme' in selling CRM.

Management perspective

From a management perspective that is a double benefit because they get the information they need, not just on Friday or the 28th of the month, but daily or hourly.

More than that, the reporting that they get is accurate, not skewed by a salesman's good or bad week.

The good news is that businesses are becoming more savvy about the benefits of software and how it supports their business activities.

But this is not to say that all customers understand 'technical talk' so it's important that software companies provide their customers with the information they need in a format they can understand.

Sage success

Sage stresses that its mature ecosystem of business partners, working with customers to really get under the skin of their business and understand how CRM can best help them, achieves these objectives.

So, keep it simple. By all means, consider the bigger picture, but focus on key issues and - importantly - the value that will be obtained by solving these.

It is also absolutely critical when selling CRM to a small business that it is done in a way that ensures that the business owners feel as though they are working in a partnership with the vendor.

It is vital to understand the customers' requirements and the value that solving these issues will have for the company.

Deciding whether to implement CRM as a whole system, or taking it piece-by-piece comes down to the reason why the SME introduced CRM to the business in the first place.

Discussing the issues that are most relevant will ensure that the most suitable parts of the system can be implemented first.

Price benefits

When you know what the business really needs and wants you can deliver the right solution. This may be delivered in a one hit or a phased delivery over time. For many small businesses the latter approach is often preferred, as it gives them more time to adopt their working practices.

So, price. It's a bigger deal in the smaller business than it is higher up the tree.

Finance agreements and pay-per-month options help. It's important to solve this issue early in the sales process, especially because of that lingering idea that CRM is only for the big guys.

Until you've convinced the customer that this doesn't demand deep pockets, you're going nowhere. Equally, there are some long-term price benefits to explore.

Where you are selling on a per month per user fee, it becomes easy for the business owner to plan the costs of expansion and, in respect of IT issues, that is regarded as a major plus because the perception exists that growth brings with it step-changes in IT capability with attendant sudden bump costs.

The pitch includes reduced costs, no additional administration and significant increased business opportunities.

Case studies

I would strongly recommend the value of case studies. While we all know that they only ever feature success stories they do have the advantage of being real-life examples.

Bullhorn specialises exclusively in the recruitment sector - which helps the case-study to be relevant.

They quote a client - Blue Silicon - which needed improved access when on the road.

Bullhorn put a CRM system in place inside a week and the company reports that vacancies filled faster and response time to customers dramatically improved.

This is precisely the sort of solid evidence of value that has customers reaching for the chequebook.
I
t would be nice to think, wouldn't it, that there's a huge market opportunity to explore based on business-to-customer (B2C) business. It ought to be right in some ways, but the general take is that CRM is a business-to-business (B2B) tool.

Let's not try to turn a cash-cow into a racehorse. That way, you get a camel.

"Don't make it all about technology. It is important to explain the business value of CRM without a lot of technical jargon," says Martin Schneider of Sugar CRM.

He goes on to say that the trick is to explain the benefits, such as the increased insight into revenue or the ability to identify your best customers, before jumping into a technical discussion about customisations and the roll-out schedule.

Discussions about CRM and the implementation of the technology should be about business value, not technical "speeds and feeds".

Heads up, folks

Get all the decision-makers in the business fully on board; (not an easy shout). Uptake will increase once the troops see the value that CRM tools can bring to them personally.

At that point, the generals can convince the army to advance.

Heads up, folks. Nobody - and I do mean nobody - answered the simple question, "Who do you contact first, by title."

This suggests to me that the vendors either don't know or aren't sure. This is a classic distinction between large and small businesses: the small business is highly unlikely to have an IT expert in-house so, for instance, they probably won't know what 'the cloud' is.

Throw your hands in the air all you like, that's the truth. Offer them a cloud solution without explaining it, and you are not just toast, you are buttered with marmalade.

Delivering change

A key advantage CRM provides is the ability to get everyone on the same page - ensuring that all members of the business see the same data, share information and that everyone has unfettered access to the most up-to-date information is a huge change from the way many young and small businesses operate.

It is fair to say that not all small business owners are ready for the degree of openness that this presumes, so while it is a valuable benefit the customer may not see it that way.

Everyone says that getting the CRM system up and running with the proper data is imperative, that bad data will make for unhappy users, and will result in those monthly licenses being cancelled.

Well, guys, go to work because this is exactly one of the perceived problems with CRM: workers think 'we're going to work our nuts off to get this right (and we don't know how) and it will stop us doing the day-job'.

To sell CRM to small businesses you absolutely have to take that attitude out of the equation.

Nothing beats 'more revenue' as a sales proposition.

So, lead management tools such as web forms can quickly turn anonymous web visitors into sales leads. This can help to increase sales and marketing productivity without extra cost.

Unfortunately, everyone seems to talk about solving problems, curing 'pains', mending faults. How negative is that?

Please, start calling the opportunity shots - make yourself a millionaire: that's the tone.

The dos and don'ts of selling CRM to small businesses

The entry level cost of CRM is falling: open source, SaaS and cloud computing are all helping to make the price attractive.

But the game-plan should be to demonstrate, not just the bargain price, but also the business benefits: that CRM is not just nice to have, but essential.

When you go to sell to small business owners, ask them a simple question: how well could you operate without mobile phones?

Then you can show them that CRM costs roughly the same as the total bill for a single smartphone user, but delivers vastly more benefits.

Then it will be time to get the order pad out.

DO - Act as a guide interested in helping the business's operations

DON'T - Simply push licenses and unnecessary consulting hours

DO - Keep close tabs on the deployment of the technology to help get the most out of your investment and that of the end-user

DON'T - Just sign the contract, deploy the software, and then walk away

DO - Look to hone your sales skills on sales, marketing and support professionals. Aim to highlight the link between the investment in technology and the business value to be gained

DON'T - Rely on a flashy product demo and some fancy slides to sell for you. It is important to clearly and convincingly explain how the technology will support the business

Source: Sugar CRM





MicroScope+
Content
Find more MicroScope+ content and other member only offers, here.
Read more on Salesforce Management