Five minute interview: Craig Whitney, Axway
Microscope puts its questions to Craig Whitney, vice-president and managing director of Axway. What is the best/worst advice you have received and from whom? Always have a 'plan B' - from a former manager. Stuff happens, so be prepared for it. What is the best book you have ever read?
This Article Covers
RELATED TOPICS

Download this free guide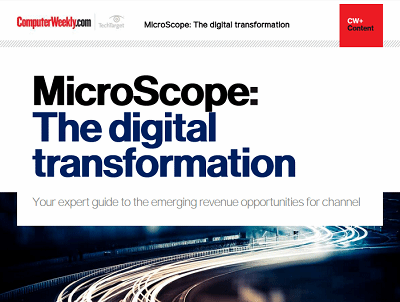 Emerging revenue opportunities for the channel with digital transformation
Digital transformation is a phrase that means many things to many people but for it to have any real relevance to the channel then it needs to mean a chance to make money. This guide will share some of the recent developments in the channel and the latest thoughts about the issue.

By submitting your personal information, you agree that TechTarget and its partners may contact you regarding relevant content, products and special offers.

You also agree that your personal information may be transferred and processed in the United States, and that you have read and agree to the Terms of Use and the Privacy Policy.



MicroScope puts its questions to Craig Whitney, vice-president and managing director of Axway

What is the best/worst advice you have received and from whom?
Always have a 'plan B' – from a former manager. Stuff happens, so be prepared for it.

What is the best book you have ever read?
Best business book would be Raving Fans by Ken Blanchard. For non-business, On the road by Jack Kerouac.

Tell us something most people do not know about you
Before I got into IT, I dabbled as a voiceover artist – movie trailers, radio commercials, etc. It was great fun.

What temptation can you not resist?
Spicy tuna rolls.

What is your most elusive goal?
Two decent rounds of golf in a row.
Where is the one place you would like to visit before you die?
China, for its history, culture and people. I have always found it fascinating.

What do you just have to do before you die?
See my kids grow into adulthood happy, healthy and smart.

Which bit of technology would you want with you if you were stranded on a desert island?
My internet-connected iPhone. Why would you need anything else? It does everything (except run more than one app at the same time – come on Apple, wake up).

Who helped you get to where you are today?
My wife. Her unconditional support has always meant the world to me.

What was your first car and how does it compare with what you drive now?
My first car was a Chrysler Volare estate – a very uncool hand-me-down. Now I drive a Lexus. You really want me to compare?

What do you believe in most?
The power of positive thinking.

Do you have any pets? If so, what are they and what are their names?
No, but if I did they would be called Sonny, Fredo and Michael.

If you could be someone else for a day, who would you be and why?
I am comfortable in my own skin, but thanks for the offer.

Who would you least like to be stuck in a lift with?
Charles Manson.

Describe yourself in one sentence
I am happy.

Why are you good at your job?
Empathy, drive and determination.

If you were shipwrecked, who would you like to have with you and why?
My family and friends. It would be non-stop laughs.

Name three items (smaller than a fridge) that you would like to have with you if you were shipwrecked
My iPhone, a sharp knife, and a really big box of strike-anywhere matches.

If you could be any animal for a day, what would you be?
A hawk.

If a grizzly bear and a silverback gorilla decided to have a no holds barred fight, which would you put your money on?
The grizzly. It has more sharp bits than a silverback.

Do you prefer cities or the countryside?
The countryside, for the fresh air and scenery.

Describe your perfect night out
Actually, it would be a perfect night in. Me cooking for my wife and a few of our closest friends. Good food, good wine, and lots of laughs.

What would be your perfect holiday?
A family holiday by the beach, complete with siestas and happy hours.

Sum up the IT channel in one sentence
The IT channel are my extended salesforce and indispensable business partners.


---
Share your thoughts

Totake part in the five minute interview, e-mailgeorgina.tucker@rbi.co.uk for a list of questions. You can respond toall questions, or a select few. Interviews should total at least 500words.
MicroScope+
Content
Find more MicroScope+ content and other member only offers, here.
Read more on Sales and Customer Management