Do you understand your new director's duties?
As you read MicroScope, you could well be one of the UK's estimated five million company directors. You may well be sure you understand what is involved, and are comfortable with your ability to separate what you do in a personal capacity from what you do while wearing your company director hat.
This Article Covers
RELATED TOPICS

Download this free guide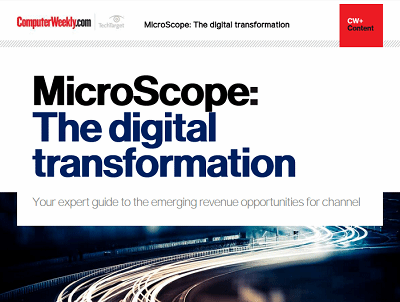 Emerging revenue opportunities for the channel with digital transformation
Digital transformation is a phrase that means many things to many people but for it to have any real relevance to the channel then it needs to mean a chance to make money. This guide will share some of the recent developments in the channel and the latest thoughts about the issue.

By submitting your personal information, you agree that TechTarget and its partners may contact you regarding relevant content, products and special offers.

You also agree that your personal information may be transferred and processed in the United States, and that you have read and agree to the Terms of Use and the Privacy Policy.



As you read MicroScope, you could well be one of the UK's estimated five million company directors. You may well be sure you understand what is involved, and are comfortable with your ability to separate what you do in a personal capacity from what you do while wearing your company director hat. If you are, though, it is fair to say you are in a minority.

In the eyes of many, the long-standing problem with the law in this area is that it has never been set down clearly in legislation. Instead, the law on directors' duties has been found in the accumulated series of case law principles that the courts have laid down over the last 150 years or so. The result has been that the full implications of the law have been understood by lawyers and accountants but few others.

Directors have had a year to get used to changes that are now laid down in legislation, in the form of the Companies Act 2006.

This in itself is a radical development, but in the process of codifying the common law principles the new act makes some significant changes to the substance of the law which applies to directors of all types of company, from the multinational listed company to the single-member retail business, and everything else in between.

The key element of the new code of duties is to be found in section 172 of the new act. This sets out what the primary legal duty of the director is. It is, in summary, to act in a way which he or she considers, in good faith, to be likely to promote the 'success' of the company for the benefit of the company's members as a whole.

Most directors will no doubt feel they know exactly how to make decisions in the context of this sort of framework. But the law now lays down a number of factors that are required to be taken into account systematically by directors in the decision-making process.

These factors include the long-term (as well as the short-term) consequences of business decisions, the impact of the company's operations on the local community and the environment, the desirability of maintaining high standards of corporate business conduct, and the need to foster the company's relationships with suppliers and customers.

Dividend decisions

Examples of matters that are likely to be affected by this new formulation are dividend decisions – where there may be conflicting pressures between short term demands for pay-outs and concerns for longer-term investment – and any decision that has implications for things like staff reductions, ethical conduct and the maintenance of customer and supplier relationships.

Very importantly, the law does not expect that directors make decisions that are supportive of each of the various prescribed factors. That would be impractical anyway – it is conceivable that, in some circumstances, a decision to reduce the workforce in one part of the company's operations might be in the interests of the company's workforce generally, or even be in the interests of the natural environment.

All the law requires is that directors pay attention to each of the
stated factors within the decision-making process and make decisions on the strength of an assessment of the widest possible range of implications for the company.

The day-to-day significance of this reform is that the parameters of the decision-making process are now effectively prescribed by law, and directors are obliged to observe this new standard procedure in respect of all the decisions they make.

Where directors do not observe the new rules, they will be in breach of their statutory duties to their company and will risk legal action being brought against them. This should not be seen as an idle threat – directors are sometimes inclined to bring actions against their fellow directors, and shareholders have a new right under the Companies Act 2006 to bring proceedings against one or more of their company's directors for breach of their duties.

Even where a company has no outside shareholders, it will still be open to the company's liquidator to sue the former directors for breach of their duties. It is therefore in the personal interests of all directors to make sure they take the new procedures seriously.

Duty of skill and care

The second big change that came into effect with the legislation concerns the director's duty of skill and care. UK company law has always incorporated a requirement for directors to act in accordance with a legal standard of skill and care, but that standard has always been extremely undemanding.

Directors have, traditionally, only been required to act in accordance with whatever skills and experience they happen to have as individuals, meaning that the law would expect higher standards from a director who happens to be a qualified lawyer or accountant than they would from one who had no qualification or business experience at all.

Not only that, but the degree of commitment to running the company's affairs that has been required of directors by the law has also been minimal, with the result that it has been held by the courts to be acceptable practice for directors to spend years on the company's board without ever attending board meetings.

This lax approach has now been definitively ended by the new act. There remains the traditional, subjective approach whereby directors' conduct will be judged by reference to the skills and experience they actually have as individuals. So those who are accountants, for example, must continue to bring to their company the benefit of their financial skills and experience.

But the act also brings in a new, objective standard whereby all directors – of all types and sizes of company – are expected to exercise the degree of skill, care and diligence that is reasonable to expect from a person carrying out the functions of director.

In due course the courts will decide what this minimum standard should be, and there is sufficient flexibility in the new legislation for them to attribute different standards of expectation to directors fulfilling different functions.
But there seems little doubt that, whatever the circumstances of the company, all directors are now expected to be aware of the various elements of the law on directors' duties and be reasonably competent in the way they carry out their duties.

Newest reforms

Two significant, related reforms came into effect on 1 October 2008. There is now, for the first time, a minimum age of 16 for service as a director.

Also, it is no longer possible to appoint a corporate director – ie, a director that is itself a limited company – unless there is at least one other director of the appointing company who is a human being. This change will have significant implications for start-ups and group structures, both of which make substantial use of corporate directors.

If you are in any doubt about how these reforms affect you as a director, you should speak to your accountant or lawyer.

John Davies is head of business law at the Association of Chartered Certified Accountants (ACCA)

MicroScope+
Content
Find more MicroScope+ content and other member only offers, here.
Read more on Sales and Customer Management