Ballmer urges Microsoft to keep innovating
In his last speech to employees at a company wide meeting at Microsoft Steve Ballmer said the firm would continue to think big
Steve Ballmer's last appearance at a company wide meeting reflected a pattern of the Microsoft CEO's career with all eyes following his antics on stage with the outgoing head of the software firm delivering the sort of high tempo performance he has done at many other events over the years.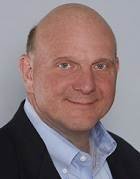 Ballmer has become famous for his conference antics, most of the best have been captured for prosperity on YouTube, and reports of his staff send-off concentrated largely on the action on stage with his choices of entrance and exit music being scruitinsed as much as his morale stirring speech about the position of the company to grow in the future.
The outgoing Microsoft CEO, who announced his intention to retire in August, left the stage with the apt choice of the Dirty Dancing tune "(I've had) the Time of My Life" after delivering a speech that deliberately echoed the first employee meeting in 1983, where the firm had told staff to think big.
According to reports in the US press he told staff that the company would keep innovating and that it would not only think up grand ideas but would be prepared to bet on them, echoing comments he recently made in an analyst meeting where he stressed Microsoft was only challenged by Google for its position as an industry leader.
Read more on Microsoft Windows Services