Surface price cuts and PC slowdown hits Microsoft
A $900m charge to cover Surface price cuts and inventory issues as well as a decline in the Windows division took the shine off Microsoft's Q4 numbers
Microsoft has revealed a $900m charge as it wrote off inventories and took a hit on the cost of its Surface tablet, a product it has only recently turned to the channel to help it sell.
The vendor shaved $150 off the price of the Surface in the last quarter and indicated the charge from taking that action and clearing some stocks as it announced its latest quarterly numbers.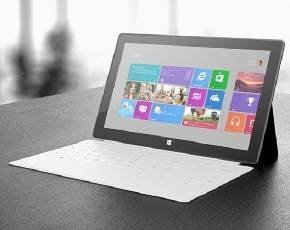 The software giant was also forced to admit that its Windows business had declined in the fiscal fourth quarter as users continue to transition away from the desktop to tablets and smart phones.
While the firm might have struggled on the consumer side its business division revenues increased by 14% in the fourth quarter and by 3% for the year and the server and tools revenue grew by 9% in Q4 and by the same rate for the fiscal year.
But revenues in the Windows division declined by 5% with consumer PCs down by 20% and OEM revenue dropping by 15%, primarily due to difficult conditions in China. Overall revenue was up 3% to $19.2 billion and operating income declined 11% to $6.2 billion.
"In many ways, our fourth quarter results reflect the trends we saw developing throughout the fiscal year. The consumer x86 PC market declined as users continued to prioritize devices to touch and ability. At the same time we saw continued strength in our enterprise product and cloud solution and increased adoption of our consumer services," said Amy Hood, CFO at Microsoft.
"This quarter our Windows business declined as the device market continued to evolve beyond the traditional PC. We are working to transition the business into this modern era of computing taking advantage of the new scenarios enabled our Windows 8. As we said before, given the complexity of the ecosystem this journey will take but we continue to make incremental progress," she added.
Commenting on the $900m Surface charge Hood said that it was now in a good position with the product and the price cuts should widen the customer base for the tablet.