Five minute interview: Alex Teh, Vigil Software
MicroScope puts its questions to Alex Teh, commercial director of Vigil Software What is the best/worst advice you have received and from whom? The best advice I received came from one of the founders of Vigil Software.
This Article Covers
RELATED TOPICS

Download this free guide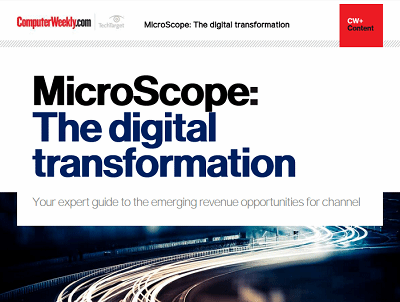 Emerging revenue opportunities for the channel with digital transformation
Digital transformation is a phrase that means many things to many people but for it to have any real relevance to the channel then it needs to mean a chance to make money. This guide will share some of the recent developments in the channel and the latest thoughts about the issue.

By submitting your personal information, you agree that TechTarget and its partners may contact you regarding relevant content, products and special offers.

You also agree that your personal information may be transferred and processed in the United States, and that you have read and agree to the Terms of Use and the Privacy Policy.

MicroScope puts its questions to Alex Teh, commercial director of Vigil Software

What is the best/worst advice you have received and from whom?
The best advice I received came from one of the founders of Vigil Software. He told me that we should quit our jobs, move to a different country and start a new company in England because we had nothing to lose. That was eight years ago. The worst advice I ever received came from all the sceptics at the time, telling us that starting Vigil Software was a risky and crazy thing to do and that the Iraq war was going to make things very difficult for us.

What is the best book you have ever read?
Rich dad poor dad by Robert Kiyosaki. It is most inspirational and made us start Vigil Software.

Tell us something most people do not know about you
When I was in high school I acted in many plays and shows. I even went for an acting job and got through to final interview stage.

What temptation can you not resist?
I cannot resist the burning sensation of a good, hot curry. The hotter the better.

What is your most elusive goal?
I would like to retire a happy and financially secure man, surrounded by a loving family, in a hot tropical location.

Where is the one place you would like to visit before you die?
It is impossible to specify just one place. Travelling is a passion of mine and I hope to visit every country in the world at least once. Discovering the history and cultures of different countries really excites me.

What do you just have to do before you die?
I will try everything (within reason) at least once. Simply because I believe that life is too short and should always be lived to the fullest.

Which bit of technology would you want with you if you were stranded on a desert island?
A solar-powered laptop with a satellite link so I could communicate with the outside world and escape from the desert island.

Who helped you get to where you are today?
My incredible, hard-working team at Vigil Software, my partner and my family.

What was your first car and how does it compare with what you drive now?
My first car was a Mini Cooper. I doubled my money on the resale six months later as I did not have a driving licence at the time. My current car, a BMW, is only used on weekends and is functionally sufficient.

What do you believe in most?
I believe that we are all masters of our own destiny. I believe in working hard and smart so that we can get the best out of our lives. I believe in earning for what you have and what you want.

Do you have any pets? If so, what are they and what are their names?
No, I am allergic to cat and dog hair.

If you could be someone else for a day, who would you be and why?
Richard Branson. After reading his autobiography I have come to admire his sense of entrepreneurship, adventure and success.

Who would you least like to be stuck in a lift with?
My competition. Being incredibly competitive I don't think I could stand being in a lift with someone I am competing against.

Describe yourself in one sentence
I love to work hard and play hard so that I can live life to the fullest.

If a grizzly bear and a silverback gorilla decided to have a no holds barred fight, which would you put your money on?
The gorilla, because it should be more intelligent than the bear.

Why are you good at your job?
I believe that I am first and foremost a people person. I like to show that I am passionate and good at what I do, which in turn influences their decisions towards what I believe in. I also believe in the products and vendors I represent and ensure that our channel gets a good return on its investment.

If you were shipwrecked, who would you like to have with you and why?
My partner, because she is my best friend and life-long companion.

Name three items (smaller than a fridge) that you would like to have with you if you were shipwrecked
A fishing rod/net, a lifetime supply of matches and a solar-powered laptop with a satellite link.

If you could be any animal for a day, what would you be?
A jaguar.

Do you prefer cities or the countryside?
Cities every time. I have always lived in large cities and thoroughly enjoy the excitement that comes with a big city.

Describe your perfect night out
My perfect night would be an exclusive dinner party with my friends at a top restaurant in a foreign country, followed by a few drinks at a local bar with great music.

What would be your perfect holiday?
An unspoilt tropical island paradise that is sunny all year round where I can dive, wakeboard and enjoy the nightlife.

Sum up the IT channel in one sentence
An unlimited source of sales and business potential that needs investment in time, training and marketing to ensure that relationships are built on success over a long period of time.


---
MicroScope+
Content
Find more MicroScope+ content and other member only offers, here.