Five minute interview: Simon Rixon, BT Engage IT
What is the best/worst advice you have received and from whom? The best advice I have received are the values my parents instilled in me. The worst was my school career service which told me that I would never get a job in IT. What is the best book you have ever read?
This Article Covers
RELATED TOPICS

Download this free guide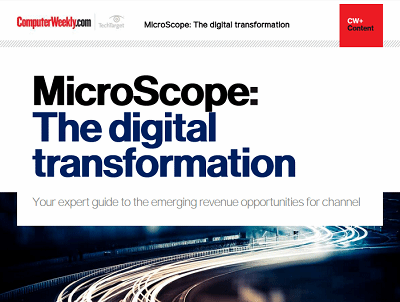 Emerging revenue opportunities for the channel with digital transformation
Digital transformation is a phrase that means many things to many people but for it to have any real relevance to the channel then it needs to mean a chance to make money. This guide will share some of the recent developments in the channel and the latest thoughts about the issue.

By submitting your personal information, you agree that TechTarget and its partners may contact you regarding relevant content, products and special offers.

You also agree that your personal information may be transferred and processed in the United States, and that you have read and agree to the Terms of Use and the Privacy Policy.

What is the best/worst advice you have received and from whom?
The best advice I have received are the values my parents instilled in me. The worst was my school career service which told me that I would never get a job in IT.

What is the best book you have ever read?
I like travel books, so Dark Star Safari by Paul Theroux.

Tell us something most people do not know about you
I was once on Top of the Pops (for those who remember that programme).

What temptation can you not resist?
Motorbikes.

Why are you good at your job?
I am good at motivating others to work together, and I am really passionate about working with people to help them build their business. I am also objective when advising businesses, and have a lot of drive.

What is your most elusive goal?
Travelling around the world (but it will happen).

Where is the one place you would like to visit before you die?
Far Eastern Russia. I am really interested in travel, and it is one of the most remote and inhospitable places in the world.

Which bit of technology would you want with you if you were stranded on a desert island?
I would absolutely insist that the desert island installed a broadband line - ideally a BT Business connection (obviously). I doubt there would be much competition for bandwidth in the middle of the Pacific.

Who helped you get to where you are today?
Outside my immediate family, no-one in particular, but I always take onboard any advice offered. I am of the opinion that you are never too old to learn something new.

What was your first car and how does it compare with what you drive now?
My first car was a motorbike. I now have two bikes and a Jaguar.

What do you believe in most?
Open, honest, straight talking.

Do you have any pets? If so, what are they and what are their names?
Two cats (Fluffy and Minnie) and five chickens (all named, but I can never differentiate them).

If you could be someone else for a day, who would you be and why?
A paramedic. They do fantastic work for not a lot of money.

Who would you least like to be stuck in a lift with?
A claustrophobe.

Describe yourself in one sentence
Self-motivated with a strong personal drive and integrity.

If you were shipwrecked, who would you like to have with you and why?
I wouldn't mind, as long as they knew how to build a good boat.

Name three items (smaller than a fridge) that you would like to have with you if you were shipwrecked
Web-enabled laptop, motorbike (a small one...) and a radio.

If you could be any animal for a day, what would you be?
A bird. I would love to be able to fly.

If a grizzly bear and a silverback gorilla decided to have a no holds barred fight, which would you put your money on and why?
The gorilla. It could out-run the bear if need be.

Do you prefer cities or countryside?
I like both. I was born in London, but I now live in the Hertfordshire sticks.

Describe your perfect night out
Dinner with my family, after a day's cycling or walking in nice countryside.

What would be your perfect holiday?
I guess it would have to be that round-the-world trip again.

Sum up the IT channel in one sentence
It is changing like never before as customers demand a single point supplier and an exceptional focus on service and value.


---

Share your thoughts

Totake part in the five minute interview, e-mailgeorgina.tucker@rbi.co.uk for a list of questions. You can respond toall questions, or a select few. Interviews should be around 1,000 wordsin length.


MicroScope+
Content
Find more MicroScope+ content and other member only offers, here.
Read more on Sales and Customer Management