Five minute interview: Nick Wiley, Invomo
MicroScope puts its questions to Invomo CEO Nick Wiley, What is the best/worst advice you have received and from whom? The best advice I ever heard was from Albert C. Black Jr., president and CEO of On-Target Supplies & Logistics, a US logistics management firm.
This Article Covers
RELATED TOPICS

Download this free guide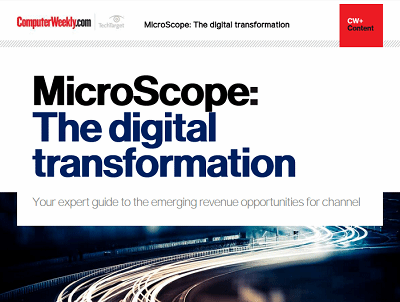 Emerging revenue opportunities for the channel with digital transformation
Digital transformation is a phrase that means many things to many people but for it to have any real relevance to the channel then it needs to mean a chance to make money. This guide will share some of the recent developments in the channel and the latest thoughts about the issue.

By submitting your personal information, you agree that TechTarget and its partners may contact you regarding relevant content, products and special offers.

You also agree that your personal information may be transferred and processed in the United States, and that you have read and agree to the Terms of Use and the Privacy Policy.




MicroScope puts its questions to Invomo CEO Nick Wiley


What is the best/worst advice you have received and from whom?

The best advice I ever heard was from Albert C. Black Jr., president and CEO of On-Target Supplies & Logistics, a US logistics management firm. He said, "When everything gets really complicated and you feel overwhelmed, think about it this way: You gotta do three things. First, get the cow out of the ditch. Second, find out how the cow got into the ditch. Third, make sure you do whatever it takes so the cow doesn't go into the ditch again."

Worst was from an elderly aunt who said, "Join the Army and learn a trade."

Tell us something most people do not know about you

I trained as a food technologist originally and spent my early career chasing prawns around the North Atlantic for M&S. Smelling of fish for two years is something I usually keep to myself.

What is the best book you have ever read?

Birdsong by Sebastian Faulks. A truly moving book about the destructive nature of war.

What is your most elusive goal?

Meeting my shareholders' EBITDA expectations.

Where is the one place you would like to visit before you die – and why?

Back to Milan on the day Arsenal beat AC Milan two-nil in the Champions League to ask the barman why he sold me Tennent's Super instead of Peroni. Explain!

What temptation can you not resist?

Cuban cigars and Armagnac. Heaven. I hope Obama doesn't lift the ban on US citizens buying them – it will mean less for us and they will become even more expensive.

What do you just have to do before you die?

Climb Everest with a Dyson to see if it could clean the place up.

Which bit of technology would you want with you if you were stranded on a desert island?

A humidor. The climate has to be right for a great cigar.

Who helped you get to where you are today?

My wife, family and first boss who taught me 'the rules' at work.

What was your first car and how does it compare with what you drive now?

A Citroen 2CV (my parents' car). It was more fun over the speed bumps than my present M5, not to mention great through a hedge – but that is a separate story.

What do you believe in most?

Leadership with humour, passion, attention to detail and integrity.

Do you have any pets? If so, what are they and what are their names?

Two mad cats called Harvey and Teddy, and a sales director called Greg.

If you could be someone else for a day, who would you be and why?

Cesc Fabregas at the Emirates – great vision and feet…

Who would you least like to be stuck in a lift with?

Anyone from the X-Factor.

Describe yourself in one sentence

A leader with a sense of humour.

Why are you good at your job?

I get up early and work hard to find all the luck I can on a daily basis. I think I am due some more of it though…

If you were shipwrecked, who would you like to have with you and why?

My son's band because I could beat them at beach cricket and then listen to some unique music.

Name three items (smaller than a fridge) that you would like to have with you if you were shipwrecked

A humidor with a digital hygrometer, a case of vintage Armagnac and access to Private Eye.

If you could be any animal for a day, what would you be?

A Meerkat. They are cute, everyone loves them and they seem to be able to earn great money from working in advertising – 'simples'.

If a grizzly bear and a silverback gorilla decided to have a no holds barred fight, which would you put your money on and why?

The gorilla, of course – the grey hair suggests experience and maturity (you can guess which way my hair colour is heading) and therefore it would be way too smart for the bear (you need to remember what they do in the woods as well...).

Do you prefer cities or the countryside?

Cities. There are more people to annoy by cutting them up at the traffic lights.

Describe your perfect night out

Out with my wife for a great meal, white burgundy, red burgundy, Armagnac and cigars, before retiring to a comfy chair to listen to some great music.

What would be your perfect holiday?

Skiing down a double black run with lots of powder.

Sum up the IT channel in one sentence

Flexible, realistic, fun and still full of opportunity.


MicroScope+
Content
Find more MicroScope+ content and other member only offers, here.
Read more on Sales and Customer Management