Proving that the grass is greener
In business, we are always listening to customers and trying to understand what they want. The ability to be 'green' has quickly emerged as one of the major challenges facing businesses today.

Download this free guide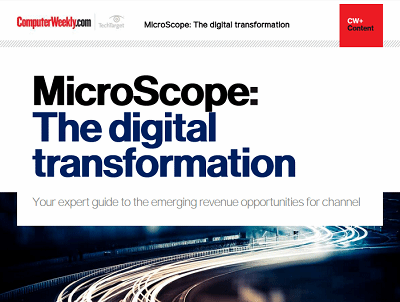 Emerging revenue opportunities for the channel with digital transformation
Digital transformation is a phrase that means many things to many people but for it to have any real relevance to the channel then it needs to mean a chance to make money. This guide will share some of the recent developments in the channel and the latest thoughts about the issue.

By submitting your personal information, you agree that TechTarget and its partners may contact you regarding relevant content, products and special offers.

You also agree that your personal information may be transferred and processed in the United States, and that you have read and agree to the Terms of Use and the Privacy Policy.



In business, we are always listening to customers and trying to understand what they want. The ability to be 'green' has quickly emerged as one of the major challenges facing businesses today. After all, many channel partner customers want to be more environmentally responsible, but do not want to affect productivity, customer service or the bottom line. The real problem for VARs and channel partners lies in how to make a business out of helping their customers to achieve this.

One of the areas where deploying green practices can deliver tangible results is in implementing technology. ICT is responsible for up to one billion tonnes of CO2 emissions, an amount similar to that produced by the airline industry. For organisations that increasingly rely on IT to run their business, this overhead has become a significant concern and cost.

While businesses ideally want to cut their power bills and carbon footprints, achieving this is not always easy. In fact, there are so many different marketing messages surrounding green IT – and some would argue, so much hype – that it is quite difficult to pin down exactly what green IT means, and more importantly, what it can deliver.

More and more customers now consider a company's green credentials alongside price, customer service and reputation when making a purchasing decision. Legislation, such as the Waste Electrical and Electronic Equipment (WEEE) Directive in Europe, encourages businesses to adopt green practices. Increasingly they are also finding that adopting green practices can save the business money.

With this potent combination, it is not surprising that being green has now become a powerful selling point. The standard rule for IT sales is that every solution includes one part hardware/software to four parts services. If greener hardware is only 20% of the opportunity, where are the opportunities for VARs and channel partners to capture the other 80%?

The process begins with knowing your customer and what they want. The problem is that customers do not usually express their needs in the same terms as your solution. Simply put, many customers do not know how to make their IT green, or at least they do not feel they have the budget to allow environmental concerns to affect their purchasing decisions.

The fact is, it can be nigh on impossible to "sell" green if a customer is not asking for it. But all customers do have issues they are trying to solve, for example, low datacentre utilisation or efficiency, not enough power, rising energy costs, shareholder or customer demands, or governmental mandates. Approaching these issues first, then providing additional green benefits on top, can provide a better result to the customer, as well as leading to additional services opportunities for the partner.

A number of technologies can have significant environmental benefits but also deliver wider cost savings and management improvements. Because of this, green IT goes hand in hand with other strategies such as consolidation and infrastructure optimisation. The key to selling
these technologies can therefore lie in understanding which messages resonate most strongly with potential customers.

Broadly speaking, there are four types of customer needs that have green IT implications. While these may constitute more of a sliding scale than clearly delineated categories, most customers will fall into one or more of these groups.

Doing the right thing

Some customers quite simply want to do the right thing and consequently the opportunities can be significant for any VAR with green expertise.

It starts with developing a strategy that includes the replacement of old hardware with more power-efficient products, such as energy-efficient servers, laptops, desktops and monitors. It also includes deployment services, and disposal. And remember, disposal is more than recycling. It is about ensuring that sensitive data on hard drives is destroyed, which presents another services opportunity.

Optimisation

The second type of opportunity is with those customers looking to optimise IT efficiency. Being greener is a nice by-product for these customers but not the primary driver behind their modernisation initiatives. Getting more from what they already have certainly has green implications, so the opportunity goes beyond products into significant services engagements. IT energy assessment, designing for greater energy efficiency, consolidation and virtualisation are areas in which most customers need help from an expert VAR. This can span from the desktop or laptop through to the overall datacentre, and everything in between.

Managing costs

In the next category come customers with even more sophisticated needs who want to manage IT costs and reduce operating and capital expenses.
The decline in the price of hardware has added to the "one app per server" sprawl that creates an IT monster. Increased IT complexity increases costs. Many customers are therefore looking for ways to slow the growth of these costs by decreasing complexity through standardisation, consolidation, virtualisation and more efficient use of power and cooling.

This presents a huge opportunity for VARs to help them curb this sprawl and increase efficiency. This is an exercise in cost reduction, so any technology that delivers a rapid return on investment is likely to prove popular.

End-of-life

Finally, there is the opportunity that arises at the end of a computer's useful life – for some, a necessary evil. Legislation such as the restriction of the use of certain hazardous substances in electrical and electronic equipment and the WEEE Directive means companies are required to take a green approach to at least one part of the IT life-cycle. Companies that fail to dispose of hardware in a correct manner can face significant fines.

It might not seem as though there are huge financial gains to be made in this, but it can provide a valuable opportunity to get that first contract with a customer and provide opportunities for new hardware and the services to deploy and manage them.

Channel opportunity

Based on these four categories, it is clear that the opportunity for the channel is not only in skills or technology but knowing how to talk about the green message. In other words, it is about knowing how to strike a balance between talking about saving trees and talking about saving pounds.

Some customers are genuinely attuned to green IT; they are mandated to cut carbon footprints and consider the environment across every part of their IT infrastructure. For others, having a more environmentally friendly IT infrastructure is desirable but not a defining motivation. For VARs the skill lies in moving at the same pace as their customers' green initiatives, and helping them to capitalise on green technologies.

Companies such as Dell are making it easier for VARs to deliver on the promise of green IT in a number of ways. Energy Smart products can deliver more compute for less power. Online power calculators (servers and clients) and tools allow VARs to determine the most power-efficient configurations. Studies are available to show how to increase utilisation and decrease power use. And these come from a company that is striving to become the most environmentally friendly technology business in the world.
MicroScope+
Content
Find more MicroScope+ content and other member only offers, here.