IBM buys Blade Network Technologies
In a long-anticipated response to its rivals' advance on the data centre environment, IBM has bought virtualisation software, blade server and top-of-rack switch builder Blade Network Technologies for an undisclosed sum. The two firms have maintained an OEM relationship since 2002,andBig Blue claims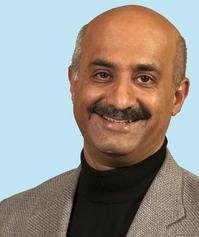 In a long-anticipated response to its rivals' advance on the data centre environment, IBM has bought virtualisation software, blade server and top-of-rack switch builder Blade Network Technologies for an undisclosed sum.
The two firms have maintained an OEM relationship since 2002, and Big Blue claims that over 50% of its System x BladeCenters currently attach to or use Blade's products.
Privately-held Blade - which was spun out of parent Nortel with VC help in 2006 - also has OEM deals with both Hewlett-Packard and EMC, among others.
Blade CEO Vikram Mehta, (pictured) did not discuss the future of those relationships today, but hinted they may be maintained in some form.
"Blade views this as a great opportunity to continue working with the ecosystem of technology providers that have helped make our company successful while allowing our technology to become a more central part of the data centre," he said.
IBM said it would bring Blade's technology with its own systems to optimise network performance in IBM-managed data centres.
"Blade will help IBM better integrate networks with its systems, optimising them for workloads that require high-speed and low-latency performance such as cloud computing and business analytics," said IBM System Storage and Networking general manager, Brian Truskowski.
"Blade will increase IBM's System Networking development, sales, support, skills and awareness and help IBM build smarter systems," he added.
Although financial terms were kept hush-hush, a series B funding round 12 months ago valued Blade at around $230m, according to reports.
Subject to review and approval, the deal will close during the fourth quarter of 2010.
MicroScope+
Content
Find more MicroScope+ content and other member only offers, here.