US pension fund launches law suit against HP board and Hurd
By Billy MacInnes A US pension fund has filed a complaint in Santa Clara County Court against named members of the HP board and former CEO Mark Hurd in the wake of his departure from the company last week. The shareholder derivative complaint, revealed by CourtHouse News Service,names Hurd, interi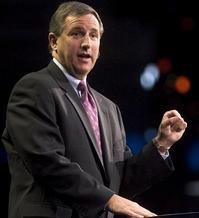 By Billy MacInnes
A US pension fund has filed a complaint in Santa Clara County Court against named members of the HP board and former CEO Mark Hurd in the wake of his departure from the company last week.
The shareholder derivative complaint, revealed by CourtHouse News Service, names Hurd, interim CEO Catherine Lesjak and HP officers and directors as defendants and was filed by Brockton Contributory Retirement System on behalf of HP. It is seeking to remedy what it claims are "breaches of fiduciary duties, waste of corporate assets, unjust enrichment and insider trading occasioned by the HP Board's dereliction of duty."
The complaint claims the roots of the present situation lie in the vendor's failure to revise its Standards of Business Conduct in the wake of the scandal in 2006 when it admitted to spying on journalists and board members. At the time, the company paid $14.5m and was ordered to adopt changes to its corporate governance when it settled a case brought by the California Attorney General for Unfair Business Practices following that scandal.
The complaint alleges they went "largely unimplemented" and, where they were adopted, "failed grossly", resulting in Hurd being "permitted to run HP as his own private fiefdom - free from Board oversight".
After detailing Jodie Fisher's involvement with HP and Hurd between 2007 and 2009 and her filing of a sexual harassment claim against Hurd in June 2010, it outlines the actions of the board following its own investigation which uncovered irregularities in Hurd's expenses claims and led to his departure from the vendor.
The complaint objects to the $40m severance package given to Hurd, arguing that "rank and file employees had been fired for far lesser offences. Typically, employees terminated for offences under the code of conduct were not given any severance".
The complaint also claims Hurd sold millions of dollars of HP stock just before the disclosure of the sexual harassment allegations against him and that CFO Catherine Lesjak (currently interim CEO) sold $226,110 worth of HP shares a week before Hurd's dismissal.
It argues the actions of Hurd and the named officers and directors at HP exposed the company to "substantial liability for misconduct...millions of dollars in potential civil judgements, as well as enormous expenses of dealing with this crisis. HP has also suffered severe damage to its reputation, goodwill and its ability to conduct future operations".
The complaint was filed for Brockton Contributory Retirement System by Scott+Scott in San Diego, California.
MicroScope+
Content
Find more MicroScope+ content and other member only offers, here.