Five minute interview: Dave Breith, O-bit Telecom
MicroScope puts its questions to Dave Breith, CEO of O-bit Telecom. What is the best/worst advice you have received and from whom? I don't think I have ever been given any really good or bad advice, but I have worked things out for myself along the way. Maybe that is the best way to learn.

Download this free guide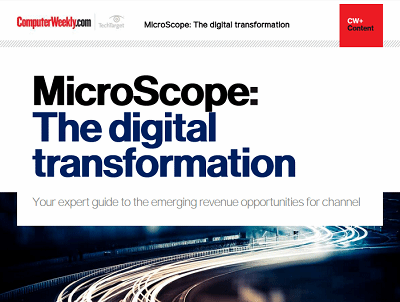 Emerging revenue opportunities for the channel with digital transformation
Digital transformation is a phrase that means many things to many people but for it to have any real relevance to the channel then it needs to mean a chance to make money. This guide will share some of the recent developments in the channel and the latest thoughts about the issue.

By submitting your personal information, you agree that TechTarget and its partners may contact you regarding relevant content, products and special offers.

You also agree that your personal information may be transferred and processed in the United States, and that you have read and agree to the Terms of Use and the Privacy Policy.

MicroScope puts its questions to Dave Breith, CEO of O-bit Telecom

What is the best/worst advice you have received and from whom?
I don't think I have ever been given any really good or bad advice, but I have worked things out for myself along the way. Maybe that is the best way to learn.

What is the best book you have ever read?
I find it hard to get all the way through a book, as I am usually thinking about something else - normally work - which breaks my concentration.

Tell us something most people do not know about you
I am a bit of a softie on the quiet and tend to give in quite quickly if I feel sorry for someone.

If you were shipwrecked, who would you like to have with you and why?
Tom Hanks. He has been stranded on an island before so will know what to do!

Do you prefer cities or the countryside?
Definitely the countryside. I grew up in a rural area, around farms and animals, and would consider buying a small farm and relocating in years to come.

Where is the one place you would like to visit before you die?
Australia. I have always promised myself I would go, but have never had the time. Maybe when the business is more established and successful I can think about making the trip.

If you could be any animal for a day, what would you be?
My wife's horse, as it gets 10 times more attention than me.

Which bit of technology would you want with you if you were stranded on a desert island?
A satellite telephone. Then hopefully I wouldn't be there very long.

Who helped you get where you are today?
There has been no individual that I could single out, but now the business is growing I have a great team around me to help shape the company and drive our success.

What was your first car and how does it compare with what you drive now?
I had an old Ford Escort Popular Plus, which was always breaking down and more a shade of rust than the blue it was supposed to be. At the time I thought I was really cool. But nothing can compare to the brand new trusty BMW I have now, within warranty, serviced regularly and managed by the company.

What do you believe in most?
Achieving your personal goals, whatever they might be.

Describe your perfect night out
A few pre-dinner drinks followed by a good meal, but nothing too fancy, then a couple more drinks before putting the world to rights with my friends.

If you could be someone else for a day, who would you be and why?
I am pretty happy being myself.

Who would you least like to be stuck in a lift with?
A smelly person.

If a grizzly bear and a silverback gorilla decided to have a no-holds barred fight, which would you put your money on and why?
If I were a betting man, I would have to look at the odds and previous form and then get a glimpse of them before the fight. As with all decisions I take, it would be an informed, calculated risk. But if I have to choose now, my gut feeling is the grizzly.

What is your most elusive goal?
To pilot a helicopter. It has always been a dream of mine, but I just don't seem to have the time to start the process of getting my licence.

Describe yourself in one sentence
A hard-working, forward-thinking professional who knows where he is going and where he will end up.

What would be your perfect holiday?
A round-the-world trip, visiting all of our (future) global offices.
MicroScope+
Content
Find more MicroScope+ content and other member only offers, here.
Read more on Network Infrastructure Solutions and Services