Fire kindled under Apple
Barely a fortnight since it was launched, Amazon's Kindle Fire tablet looks to be proving a viable contender to the iron grip of sector big boy Apple, according to number-crunchers at IHS iSuppli. A preliminary projection from the US analysts' Display Materials and Systems Service reckons that Amazo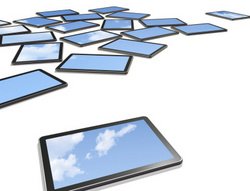 Barely a fortnight since it was launched, Amazon's Kindle Fire tablet looks to be proving a viable contender to the iron grip of sector big boy Apple, according to number-crunchers at IHS iSuppli.
A preliminary projection from the US analysts' Display Materials and Systems Service reckons that Amazon will ship 3.9 million Fire tablets during the last three months of 2011, up from, obviously, zero in Q3.
This will give it a 13.8% share of tablet shipments compared to Apple's 65.6% projected share, leap-frogging comfortably over current silver medallist Samsung, which has 4.8% of the market.
IHS senior manager of tablet and monitor research, Rhoda Alexander, said it was becoming clear that a competitor had finally developed a tablet with "enough of Apple's secret sauce to succeed".
"Initial market response strongly suggests that Amazon has found the right combination of pricing, marketing, content and an appropriaye business model, positioning the Fire to appeal to a brand new set of tablet buyers," she added.
With Fire pricing understood to be below the $201.70 (£128.97) it costs to build one, Amazon has "created chaos in the Android tablet market," said Alexander.
She explained: "Most Android tablet makers must earn a profit based on hardware sales alone. In contrast, Amazon plans to use Fire to drive sales of physical goods that comprise the majority of [its] business. As long as this is successful, it can afford to take a loss on the hardware."
IHS is now forecasting global media tablet shipments to hit 64.7 million units in 2011, up from its last forecast of 60 million, made in August. This will be up 271% on 2010.
It has also boosted its forecast for the coming years, with shipments expected to hit 287.2 million by 2015, up from 275.3 million. Fire sales, it added, would account for a good deal of this growth, as will price cuts by other Android vendors.
MicroScope+
Content
Find more MicroScope+ content and other member only offers, here.