Tablet market just for Christmas as shipments slide in Q1
The media tablet market burned out in Q1 after experiencing the same kind of heavy seasonal downturn normally seen in more mature consumer electronics categories, according to IDC. Worldwide shipments into sales channels dropped 28% on a sequential basis to 7.2 million unitsin the three months to 31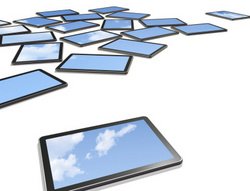 The media tablet market burned out in Q1 after experiencing the same kind of heavy seasonal downturn normally seen in more mature consumer electronics categories, according to IDC.
Worldwide shipments into sales channels dropped 28% on a sequential basis to 7.2 million units in the three months to 31 March, said IDC.
The e-reader market, including products such as Amazon's Kindle, also slipped in a challenging post-Christmas season.
IDC said there were indications that the category may not yet be as strong as current levels of hype suggest, although research analyst Jennifer Song pointed out that economic conditions and supply-chain constraints had not helped matters.
The nascent market was dominated by two generations of Apple's iPad, which have cornered hearts and minds in the consumer and business sectors to such an extent that other vendors have had a hard time getting heard above the racket.
IDC said that mobility vendors, such as Samsung and Motorola, had seen some success distributing through the telco channel, but said that sales were stymied by consumer unwillingness to sign up to mobile network data plans.
IDC vice president of clients and displayes, Bob O'Donnell said: "Concerns about general macroeconomic issues and the post-holiday let down took a toll on demand.
"We expect the rest of the year to be much stronger, but we believe vendors who continue to focus on the telco channel for distribution will face serious challenges," he added.
Analysts now reckon the market will pick up again in the back half of 2011, shipping close to 53 million units by next Christmas.
MicroScope+
Content
Find more MicroScope+ content and other member only offers, here.