SAP to pay Oracle $1.3bn in copyright case
Oracle might not have got the $4bn to $5bn Larry Ellison (pictured) argued it was due from SAP for copyright infringement, but it has been given the highest awarded payout awarded by a court for a case of this kind at $1.3bn. The jury in the case between the two vendors concluded the case handing Or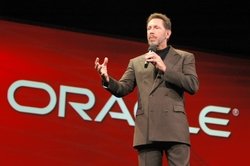 Oracle might not have got the $4bn to $5bn Larry Ellison (pictured) argued it was due from SAP for copyright infringement, but it has been given the highest awarded payout awarded by a court for a case of this kind at $1.3bn.
The jury in the case between the two vendors concluded the case handing Oracle substantial damages after it was deemed to have had its copyright infringed when an SAP subsidiary downloaded some of its code.
The case has been grabbing the headlines over the last three weeks, not just for the scale of damages Oracle's CEO claimed it deserved but because of the almost comical ways the firm's lawyers had been trying to subpoena former SAP CEO Leo Apotheker.

The vendor has admitted the downloading of Oracle code took place and taken steps to ensure a similar move would never be repeated. At the time of the downloading, in 2005, McDermott was running SAP America, and he took the stand last week to apologise for the incident.
In a statement in response to the verdict SAP indicated that it might fight the judgment: "We are, of course, disappointed by this verdict and will pursue all available options, including post-trial motions and appeal if necessary."
The case was always going to centre on the scale of damages because SAP always acknowledged that its TomorrowNow subsidiary had downloaded Oracle files but the German vendor argued it was a matter of millions, though its rival demanded billions.
For further background see:

SAP expected to start defence in Oracle copyright dispute

Ellison takes stand to demand billions from SAP

SAP won't fight Oracle IP claims

MicroScope+
Content
Find more MicroScope+ content and other member only offers, here.