Mark Hurd may get board role at Oracle
FormerHewlett-Packard CEO Mark Hurd is being considered for a board role at Oracle, according to reports that emerged over the weekend. Hurd quit HP last month after an investigation into allegations of sexual harrassment against an HP contractor uncovered expenses irregularities. In a statement mad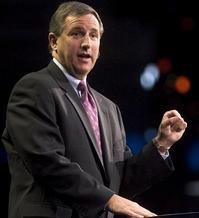 Former Hewlett-Packard CEO Mark Hurd is being considered for a board role at Oracle, according to reports that emerged over the weekend.
Hurd quit HP last month after an investigation into allegations of sexual harrassment against an HP contractor uncovered expenses irregularities.
In a statement made shortly after Hurd was made to fall on his sword, Oracle CEO Larry Ellison laid into the HP board, accusing them of making "the worst personnel decision since Apple fired Steve Jobs".
It now appears as if the Oracle supremo and multibillionaire Ellison has come through for his friend in his hour of need.
According to the Financial Times Oracle's board will meet later in the week to vote on whether or not to let Hurd into the club.
The two firms are nowadays close competitors and bringing Hurd into the fold would be a considerable coup for Oracle.
It is unknown what position Hurd would take within the software giant, or whether or not he would outrank Ellison's deputies, former US Marine Corps captain Charles Phillips and CFO Safra Catz.
Oracle has declined to comment.
MicroScope+
Content
Find more MicroScope+ content and other member only offers, here.