Five minute interview: David Akka, Magic Software Enterprises (UK)
What is the best/worst advice you have received and from whom? Best advice: "If you treat your subordinates as privates (rank) they will perform as privates; if you treat your subordinates as generals they will perform as generals."
This Article Covers
RELATED TOPICS

Download this free guide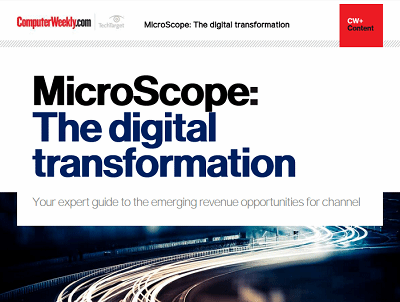 Emerging revenue opportunities for the channel with digital transformation
Digital transformation is a phrase that means many things to many people but for it to have any real relevance to the channel then it needs to mean a chance to make money. This guide will share some of the recent developments in the channel and the latest thoughts about the issue.

By submitting your personal information, you agree that TechTarget and its partners may contact you regarding relevant content, products and special offers.

You also agree that your personal information may be transferred and processed in the United States, and that you have read and agree to the Terms of Use and the Privacy Policy.

What is the best/worst advice you have received and from whom?
Best advice: "If you treat your subordinates as privates (rank) they will perform as privates; if you treat your subordinates as generals they will perform as generals." It was given to me by my manager at the time, Regev Yativ, vice-president EMEA.

What is the best book you have ever read?
I read a lot, from classical to business, so it is a difficult choice. If I had to choose one book that influenced me and gave me the passion for what I do today it would be Barbarians at the Gate: The Fall of RJR Nabisco by Bryan Burrough and John Helyar.

Tell us something most people do not know about you
I love philosophy, especially classical and post-modern. I enjoy researching the influence and implementation of philosophy theories in art and architecture.

What temptation can you not resist?
My mum's cooking.

Where is the one place you would like to visit before you die?
Somewhere in space. I just must see planet Earth from space before I die.

Which bit of technology would you want with you if you were stranded on a desert island?
My iPhone. I just love it. It makes me feel that the world is in my palm.

What was your first car and how does it compare with what you drive now?
My first car was a Volkswagen Beetle. It was two years older than me and was in a bad shape when I bought it, full of dents and corrosion. I invested my first two salaries in modernising the car, gave it brand new bodywork with a fantastic metallic colour, changed the interior and enhanced its performance. It was the most talked about car in my age group at the time.
Today I drive a BMW 6 series, which is a good combination of a fast-performing sports car with the comfort of a top-of-the-range saloon car.

What do you most believe in?
Employee empowerment is the most critical aspect of successful business today. For an organisation to be responsive, agile and decisive, empowerment at every level is the key. Empowerment makes the difference when a sales person decides to do that little bit extra for customers; empowerment makes the difference when a quick decision by a worker saves the production line from a possible breakdown; empowerment makes the difference when people try to locate opportunity for improving their work and life in general.

If you could be someone else for a day, who would you be and why?
President JF Kennedy during the Cuban Missile Crisis. Those two weeks during October 1962 could have changed humankind's future forever and taken us back to the Stone Age. Kennedy was considered by many to be intelligent but too young and too weak for decision-making in crisis situations. He managed not only to defend his country and achieve the best possible outcome from the situation, but also won many hearts and paved the way to end the cold war.

Who would you least like to be stuck in a lift with?
Someone with bad body odour.

Describe yourself in one sentence
Someone who is loyal, committed and delivers.

If you were shipwrecked, who would you like to have with you and why?
Family and loved ones. After all, they are what keep me going.

Do you prefer cities or countryside?
I struggled with that question myself for years, when deciding where to live. In the end I decided on somewhere in between. I like the activity, the buzz and the nightlife cities can offer, but I would miss the peace of mind one gets in the countryside. I now live in Windsor.

What would be your perfect holiday?
My perfect holiday would be a place full of history, character and art. Almost everywhere in Europe could fit that definition. I went to Florence last year, which I raved about for months afterwards. Barcelona is another favourite spot that I keep going back to. And Bath (Avon) still mesmerises me despite the number of times I have visited.

Sum up the IT channel
Working with the channel allows us to do what we do best - develop innovative technologies - while our channel partners focus on their strengths, which are selling, marketing and customising our products to meet users' needs.


---
MicroScope+
Content
Find more MicroScope+ content and other member only offers, here.
Read more on Sales and Customer Management