Five minute interview: John Campbell, QlikTech UK
MicroScope puts its questions to John Campbell, alliance director at QlikTech UK. What is the best book you have ever read? Anything by my favourite author, Frederick Forsyth. I've read all his books - I love the description, detail, and the storylines.
This Article Covers
RELATED TOPICS

Download this free guide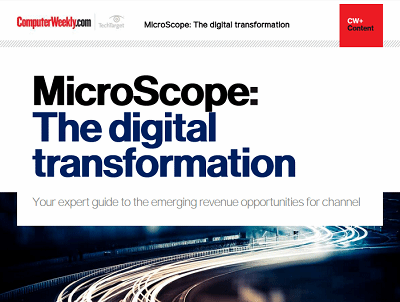 Emerging revenue opportunities for the channel with digital transformation
Digital transformation is a phrase that means many things to many people but for it to have any real relevance to the channel then it needs to mean a chance to make money. This guide will share some of the recent developments in the channel and the latest thoughts about the issue.

By submitting your personal information, you agree that TechTarget and its partners may contact you regarding relevant content, products and special offers.

You also agree that your personal information may be transferred and processed in the United States, and that you have read and agree to the Terms of Use and the Privacy Policy.



MicroScope puts its questions to John Campbell, alliance director at QlikTech UK

What is the best book you have ever read?
Anything by my favourite author, Frederick Forsyth. I've read all his books – I love the description, detail, and the storylines. Being a bit of a Bond fan, I find the cloak and dagger political conspiracy stories hugely entertaining.

Which bit of technology would you want with you if you were stranded on a desert island?
My iPhone. It's got all my music on it so I won't get bored, I can communicate with the outside world, and it even runs QlikView! I'm a real Apple fanatic, all my technology at home is Apple. They've really changed how people use music and technology.

Who helped you get to where you are today?
My extremely supportive family. In my mid-30s I decided to do an MBA, which involved a lot of work, and the children were still quite small. My wife was brilliant about it.

What was your first car and how does it compare with what you drive now?
It was a yellow Ford Escort. I always had it in bits on the driveway, repairing it. I drive an E-Class Mercedes now – it's not as comfortable or as much fun as the Escort.

What do you believe in most?
I'm very much a believer in creating your own destiny. I rarely read horoscopes, and when I do I only pay attention if they're good. That's probably because I'm quite an optimistic person.

What is your most elusive goal?
I am always trying to improve my foreign languages, to no avail. I have tried learning German and French, and I keep trying to go back. I have even tried putting French lessons onto my iPod to listen to when I'm at the gym.

If you could be someone else for a day, who would you be and why?
I can't choose between Neil Armstrong stepping on the moon, George Best on a good day, or James Bond. I think I'd definitely have to go for someone with an exciting, action-packed life.

Describe yourself in one sentence.
Motivated, focused and happy.

Why are you good at your job?
I am very inclusive, making sure that all of my team is involved in important strategic activity. I always try to achieve a balanced view of working relationships, and gain an understanding of both sides.

If you were shipwrecked, who would you like to have with you and why?
Sir Steve Redgrave. I could build a raft and he could row it to safety – now that's teamwork! I'd also be really interested to hear how he became so successful, and what drives him to achieve such amazing results.

If you could be any animal for a day, what would you be?
A cheetah. They're fast, so they have a good chance of survival. Perhaps it's my competitive streak coming through, wanting to be faster than everyone else.

If a grizzly bear and a silverback gorilla decided to have a no holds barred fight, which would you put your money on?
I don't think I'd hang around to be honest – I'd be out of there.

Describe your perfect night out
I am currently a big fan of Chewton Glen, a lovely hotel in the New Forest with great food and a fantastic atmosphere. If you walk 15-20 minutes from the hotel, you reach the coast.

Sum up the IT channel in one sentence
A group of entrepreneurial, extremely creative people, all contributing to a challenging and stimulating working environment.

MicroScope+
Content
Find more MicroScope+ content and other member only offers, here.
Read more on Sales and Customer Management