UPS market has the power to perform
Uninterruptible power supplies (UPS) may well be designed to protect devices against power outages and surges, but they can't do anything to protect the market from its own ups and downs.

Download this free guide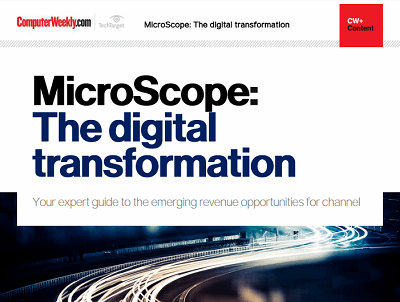 Emerging revenue opportunities for the channel with digital transformation
Digital transformation is a phrase that means many things to many people but for it to have any real relevance to the channel then it needs to mean a chance to make money. This guide will share some of the recent developments in the channel and the latest thoughts about the issue.



Uninterruptible power supplies (UPS) may well be designed to protect devices against power outages and surges, but they can't do anything to protect the market from its own ups and downs.

Jason dePreaux, research analyst at IMS Research, says the UPS market "has been through both highs and lows over the past few years". There was tremendous sales growth in 2006-07, mainly on the back of large data centre projects and high demand in emerging regions, particularly Brazil, Russia, India and China (BRIC). He adds that while the strong performance continued into 2008, "by the fourth quarter the effects of the recession were apparent".

Revenues fell 20% from the fourth quarter of 2008 to the first quarter of 2009. The world market for UPS hardware was valued at just over $8bn in 2008, but, by the third quarter of this year, the market was down nearly 25% from the same point in 2008. And while the UPS market traditionally performs better in the second half of the year and this trend is likely to continue in 2009, IMS Research expects the global UPS market will be down nearly 20% this year.
The one bright spot has been the UPS services business for maintenance contracts and replacement parts, which IMS Research predicts will actually add revenues in 2009.

While IMS Research is not forecasting for the market to return to 2008 demand levels until 2011, it believes there are positives compared to the slump that occurred in 2001-02 when the dotcom bubble burst.

In the previous slump, there was significant overcapacity of UPS which had been installed for a demand that took years to materialise. "It took a long time to work out the slack," dePreaux says. "By contrast, the present condition suggests no such over-building and market demand should return strongly. Computing and storage requirements continue to grow as more of our daily lives involve digital processes."

Richard Reddy, low power sales manager at Chloride, agrees that sales are down on last year and that the UPS market as a whole has contracted, with projects being put on hold in many market areas waiting for recovery to release funds. But he believes "signs of recovery are very much evident".

Paul Tyrer, UK & Ireland vice president at APC by Schneider Electric, accepts the UPS market has not been immune to the global downturn but says some sectors have fared better than others – especially where the applications being protected have a higher level of mission criticality. He believes that as investment in IT and IT services recovers, "the market for essential infrastructure will be likewise invigorated".

Gavin Banks, UK sales manager at Zigor, says there was "a slight shift in buying trends earlier this year as companies took the cautious approach to spending and instead carried out maintenance or repairs to existing systems rather than upgrading to new systems". But he believes the trend is shifting back and we are starting to see an uplift in the number of new installations we're involved with in the last quarter.

Calculated risk

Chris Smith, sales and marketing director at on365, says people that decide not to have a UPS are taking a calculated risk, as they would if they decided not to insure their house. "We are seeing more of a 'make do and mend' approach, with an increase in management and maintenance," he adds, although organisations "are replacing UPS units that are no longer efficient and costing too much to run".

But he observes the financial crisis has had little effect on business continuity investments in the retail sector. "The retail sector is still investing in this area and in particular through the end of year sales period, where stock control was of high importance, business continuity was a widespread top priority for IT professionals," Smith comments.

Market consolidation

In the period between the two slumps, there has been significant market consolidation. In 2006, Schneider Electric, owner of MGE UPS, bought American Power Conversion. Less than a year later, Eaton Corporation bought MGE's small systems business for €425m from Schneider and then snapped up Taiwanese UPS manufacturer Phoenixtec Power. In 2008, Emerson made a bid for Chloride but it was rejected. According to dePreaux at IMS Research, in that same year, "the top three suppliers accounted for half of global market revenues".

With consolidation, some argue the market is coalescing around a small number of vendors. Reddy says customers are looking at a number of reputable suppliers who are able to offer more than just product sales as they see the value of engaging with suppliers who can provide support throughout the lifetime of the product.

As someone who represents a relative newcomer to the market, Banks at Zigor claims that although the leading brands remain quite strong, the focus on reducing costs in the market is opening the door to new vendors offering lower price points or better value for money. Not surprisingly, he suggests vendors like Zigor have been able to meet the demands of the customers' applications at an affordable price, meaning that the user doesn't have to put off replacing the UPS because the budget has been cut.

Tyrer at APC disagrees. "In any period of downturn, brands become more important. Customers – both corporate purchasers and individual consumers – want to be sure of what they are getting for their infrastructure investment and be assured that long term, the products they purchase are widely available and have a robust support network."

There's no doubt the channel has a very strong role to play in the UPS market. According to dePreaux, sales through the IT and electrical channels accounted for nearly half of all revenues over the past year.

So what benefits can channel partners get from promoting and selling UPS systems? Banks at Zigor says that although there is a cost attached to the product, UPS can save customers money by removing the threat of a power failure that results in downtime or damage to critical systems that have to be replaced or repaired. As a result it's a good opportunity for channel partners to offer a solution that, in the long term, saves the client money.

Customer reaction

Far too often, customers are reactive in acquiring UPS systems and only act after they experience a power failure and suffer from downtime. "Channel partners that are pushing UPS forward as a cost-saving solution can be sure their customers will thank them the first time the UPS is called in to action and prevents costly downtime to their business," Banks says.

It's a point echoed by dePreaux. "UPS, above anything else, is insurance against the potential losses from power outages and disruptions. A calculation comparing the cost of UPS to the losses likely to be incurred due to downtime can make a powerful case. Also UPS can protect expensive equipment from damage by conditioning and filtering power from the utility."

Tyrer says UPS and Surge Arrestors are an effective way to build business and should be as natural to add to any server or desktop sale as a service contract. He claims that for channel partners, UPS is "about better service delivery and protection of their customer's IT investment. There is also the opportunity to sell service contracts, replacement batteries and increased power protection as the customer's IT estate grows and ages. So there are benefits of annuity revenue to the partner in addition to relationship building with the customer".

So what can resellers do to sell the benefits of UPS to customers, especially in the current environment? According to Rob Morris, country manager at POWERVAR, "it comes down to selling the UPS concept pure and simple". But with times the way they are, he says the channel also needs to provide a value-add and promote strong business benefits during the sales process.

With green issues high on the corporate agenda, UPS can become part of a company's efforts to reduce its energy bills and carbon footprint. Many UPS systems have the capability to switch their output on or off at scheduled times so organisations can power-off equipment when it is not being used.
Reddy at Chloride also stresses the need for resellers to provide value-added services, to understand the technology and the benefits and value it can give to the customer. "It's not about just shifting boxes," he cautions.

Zigor's Banks says the focus on saving money and cutting costs makes it vital for resellers to sell the advantage of having a solution in place when it's needed, rather than just giving the customer the cost of the product. He argues that UPS systems have become more efficient in recent times and replacing old systems with new ones delivers cost savings on energy bills and running costs. And while it does involve capital expenditure, there are several areas where replacing an old UPS or installing one for the first time can actually save money and start to pay for itself from day one.

Tyrer believes UPS can also be sold as a way to extend the useful operating life of servers at a time when budgets for investment in IT are constrained. Resellers can also enhance customer engagement by offering battery checks and battery replacement services and help clients by auditing UPS coverage which may well provide the opportunity to sell additional products, as very often additional server purchases are not accompanied by an upgrade in of UPS provision.

He claims the vendor's Trade-UPS campaign, for example, is a useful scheme to help customers grow their coverage economically by offering generous discounts and upgraded power when trading in old UPS for new.

Looking to the future, Smith at on365 predicts virtualisation will be good for resellers selling UPS because it causes densities to go up and existing power protection cannot always cope with the new set-up. Reddy says some of the improvements in efficiency and control systems for large UPS will become available in smaller systems: "These will find their way into the sub-3kVA pluggable UPS market, focused on server level protection, with which the IT channel has traditionally been most closely engaged."

Banks thinks the green card will become important. "The main area for development is with greener and cleaner energy," he argues. "The market demands eco-friendly products and the future is likely to see a change from providing power as a back-up solution to actually producing power or supplying power from renewable sources."

Zigor is already manufacturing solar and wind products that produce clean renewable power to work alongside the UPS and will be introducing them to the UK market shortly.

Over at APC, Tyrer points to energy efficient UPS with devices that achieve up to 95% efficiency in load conditions as low as 40%. In addition to modular and scalable devices for server rooms and data centres, APC is also concentrating on single-phase UPS products that will allow users to increase the numbers of servers being protected by individual UPS, while ensuring that both operating costs and energy costs are kept to a minimum.

Near-term prospects

For the near-term, the market will be looking for a period of stability after the big drop in sales this year which will, hopefully, be followed by a return to growth in 2011. IMS Research estimates the world UPS market lost nearly $1bn in the first half of 2009 compared to 2008 and the effects were felt across all regions and power segments. EMEA was especially hard hit.

According to dePreaux, many of the future developments will occur in BRIC countries, Africa and Eastern Europe, where infrastructure development and suspect power quality provide a powerful driver for UPS growth.

If IMS forecasts of a return to 2008 demand levels by 2011 are accurate, the market is in for a period of retrenchment. But there are positive signs for the UPS segment. "Power demands are placing increasing strain on electricity grids resulting in suspect power delivery," dePreaux notes. "These scenarios combine to offer a bright future for UPS."


MicroScope+
Content
Find more MicroScope+ content and other member only offers, here.