VMworld Europe: Meet the vendors standing up to the Storage Mafia
Nick Booth met some of the up-and-coming vendors standing up to the so-called 'Storage Mafia' at VMworld Europe in Barcelona
If you have witnessed a channel certification ceremony, you should go to the Mob Museum, next time there's a conference in Las Vegas. Their interactive Mafia Induction is very similar, apparently.
The channel set up for both industries seems remarkably similar. For example, both have a rigid hierarchy.
In the channel you will encounter direct touch salespeople, account managers, country managers, all the way up to vice presidents and executive vice presidents.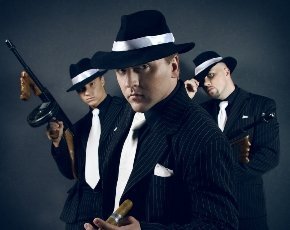 Meanwhile in Cosa Nostra (in English: Our Thing) you will find associates at entry level, then soldiers further up the chain of command, who report to the caporegime, who reports to the underboss (a sort of vice-president) who in turn reports to the boss and his advisor, the consigliere. The head of the whole organisation is the legendary capo di tutti capi.
Becoming a made man is a bit like being a Platinum Partner: you get plenty of kickbacks, nobody can touch you and you get the first choice over every new piece of business.
However, you are not immune to getting whacked, as Cisco partners often discover, although the channel boss has to get authorisation for a hit from the boss.
Bloodbath in the channel indeed! When it happens, you won't see it coming.
It seems I'm not the only person to have spotted the links between the mob and the IT industry. A number of exhibitors at VMworld 2013 in Barcelona confessed that IT vendors have been doing a number on Joe and Josephine Public for years. The most ruthless gangs being involved in SANs, arrays, tape and NSAs. Known to insiders as Giga Nostra they are referred to by outsiders as The Storage Mafia, The GigFellas and The Storpranos.
Now, some brave vendors are taking a stand and promising to clean up this sector.
At X-IO we met Gavin McLaughlin, who has spent decades in the storage sector. Now he is X-IO's solutions development director in an outfit that broke away from Seagate, and he's decided to speak out.
His current employers used to be a research division of Seagate, where they discovered that most disks being returned had nothing wrong with them that a software routine couldn't fix. So they devised a way to make disks much more reliable and durable.
But that didn't go down well with the bosses. The OEMs that Seagate made drives for weren't interested in extending the life of their products and help clients. In the words of Henry Hill in Goodfellas, they'd rather whack 'em. They were onto a good thing, forcing their customers into an upgrade every three years and selling them a warranty they couldn't refuse.
"Turkeys don't vote for Christmas," says McLaughlin. So his outfit was forced to relocate and take on a new identity, under what sounds like some kind of 'customer protection programme'.
Now X-IO, with its high performance arrays and flash storage products, such as Hyper-ISE, is offering products that are so tough they last for at least five years. No engineer will touch them – because they don't need to. They've signed with a distributor and they are looking for connected resellers – wise guys, good failovers.
"We're starting a campaign to help customers to demand more," says McLaughlin, who says he's worked in storage for a long time and he's anxious to expose the practices that go on. Well we all wish him good luck with that one. He's going to be looking over his shoulder for years.
Still, if you pull a stunt like that, you're in the public eye and less likely to get nobbled. Maybe that's the thinking behind a new initiative from Barracuda Networks. It's offering 20GB of free online storage, to reseller partners, in order to draw a crowd around its online backup and recovery services.
It's all a matter of trust, says Markus Walcher, who's got the sales VP job for Barracuda's EMEA territory. "With the cloud, the question everyone asks is, who do I trust with my data?" says Walcher. There are many cloud cowboys around, but with Barracuda you have the assurance that your service provider is a security expert at heart. Now honest local service providers can white label this or even set up private clouds for their clients.
Barracuda is offering resellers co-op marketing funds, so if you are on the campaign trail, they will be there with your, shoulder to shoulder, bearing half the financial burden. There are some quite creative things you can do with this hosted cloud, as it gives you complete mastery over who you grant access to your information and for how long.
Acronis is another brave pioneer taking on one of the big boys. In its case, the hosted cloud service provider is going head to head with Amazon. It claims that its own partners can make up to 65% better margins than the equivalent storage service from AWS (Amazon Web Services). It's looking for UK partners to join its gang. "We keep hearing from potential customers that people don't want to give their data to be hosted in another country, not knowing who gets access to it," explains Alan Laing, Acronis's consigliere for EMEA.
Talking of Wyse guys and goodfellas, MicroScope also ran into Tarkan Maner, who was once capo di tutti capi at Wyse, before Dell made him an offer he didn't refuse.
Now a reformed man, he's determined to clean up the market and take on the mafia. Like one of the untouchables who took on the mob, he's fighting the big boys through legislation, rather than brute force. They're calling him the Elliot Ness of big data.
By cunning use of software-defined storage, his company, Nexenta, aims to drive a wedge between the hardware and the software. Once hardware is longer proprietary, the vendors who control this racket will be unable to charge what they like. If they over-charge, people will go elsewhere, because software-defined storage makes hardware a commodity, which means is massively undercuts rival systems.
Where an existing NetApp upgrade would cost a million dollars, Nexenta claims that it can achieve the same results for $150,000.
Now Nexenta has launched a VMware version of its software-defined storage service, called VSA for VMware Horizon View. It's a virtual storage appliance that makes the management of virtual desktops about 90% more efficient.
Maner condemned the exploitation of end users by what he describes as The MESS (Massively Expensive Storage Systems) and called for a "storage spring" to free users from their proprietary hardware prison. The storage spring, where the masses rise up against the storage mafia, will presumably be led by a man named Mick Smetaphor.
Resellers who can work with any protocol stack are wanted, so they can build specialised storage systems on commodity hardware, rather than the expensive specialised appliances sold by EMC and NetApp, Maner says.
Be brave and stand up to the mafia, they will soon back down if you show you mean business. The next 20 years will be massive for honest storage resellers, says Maner. Start hitting datacentres, which have massive overheads caused by virtual desktops, the internet of things, video and big data. They're all paying protection money to men in suits who promise to 'make this problem go away'. Only it never does for long, and they're soon back asking for more purchasing orders. "The storage bullies have had it their own way for too long," says Maner.
It sounds like there's a new sheriff in town. But for how long?
Read more on Storage Virtualisation Solutions and Services