What to expect from the data centre in 2025
Nick Booth looks into the crystal ball with some help from industry experts to make some predictions about how the data centre will change in the next decade
Data centres are a bit like cars. The Americans make these huge vehicles that have an impressive appetite for energy and are superb for a burn up on the information superhighway. British and European data centres tend to be more fuel efficient and functional. (Put those lights out! Have you been exceeding your rations?)
"On the road, we see sports cars and family cars; we see buses and we see trucks. They have different kinds of engines, different types of seating and different characteristics in terms of energy consumption and reliability. We are going to see something similar to that in the data center world. In fact that is already happening, and I expect it to continue," says Andy Lawrence, vice president of Datacenter Technologies and Eco-efficient IT at 451 Research.
Lawrence was commenting on a new report, Data Center 2025: Exploring the Possibilities which was commissioned by Emerson Network Power. The report is a compilation of opinions of 800 data centre professionals from around the globe.
The good news is that data centres are going become denser and more efficient. At the hyperscale end of the market, many data centre operators will start to generate their own electricity. We are already witnessing this in the US, where the likes of Apple are buying their own hydro-power plants and creating solar farms.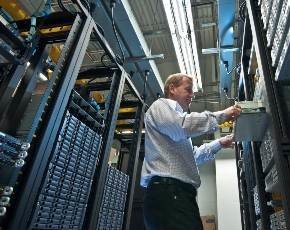 The bad news is that jobs will disappear as they become self healing and need less human intervention. Although, according to the report, many of today's data centre professionals will be retired by 2025.
Solar power will be the most important source of home generated electricity, says the report. Other 'sustainable' sources are predicted to be, in equal measure, a mix of nuclear power, natural gas and wind. This raises a couple of questions. Is nuclear power really sustainable? What about biomass as an alternative source of energy?
Sixty-five per cent of the data centre experts surveyed said it's likely that hyperscale facilities will be powered by private power generation.
Data centre experts predict rack density will soar too, from today's figure of around 6kW per rack to 52 kW per rack by 2025. According to the Data Center Users' Group this could radically change the physical environment of the data center.
Industry experts predict two-thirds of data center computing will be done in the cloud in 2025. Three quarters (72%) of industry experts predict that IT resource utilisation rates will rise to at least 60% in 2025, which is a massive rise, given that today's figures is somewhere between 6 and 12%.
Why is this happening? Efficiencies created by new management systems. Initially these efficiencies will be created by human intervention but, like turkeys voting for Christmas, they will automate the orchestration of the instruments so well that the conductors will put themselves out of a job.
Self-healing emerging
The most common explanation for higher utilization is the expected improvements in data centre infrastructure management (DCIM). Twenty-nine per cent of experts expect to see comprehensive visibility across all systems and layers, while 43% expect data centers to be self-healing and self optimizing. "That indicates 72% of the experts believe some level of DCIM will be deployed in 2025," says the report. This would be significantly higher than most current estimates of DCIM adoption.
Most experts believe the data center as we know it will undergo massive changes over the next decade, according to Steve Hassell, president, data center solutions, Emerson Network Power. "The results reflect a level of sophisticated understanding, visionary thinking and genuine optimism that I find inspiring. I believe the true impact of this report lies not only in its measurement of current opinion, but in its ability to spark future innovation."
The bad news is that employment in the data centre industry is becoming increasingly precarious. Just under half (43%) of those questioned say they see self healing systems becoming a reality and the need for skilled staff to manage data centres will diminish. Around a quarter were not bothered though. Many anticipate that by 2025 they will be out of the industry, having retired.