Norway's Green Mountain has green data locked down
Nick Booth jets off to Norway to visit a datacentre with energy efficiency and security credentials to die for
If you are a systems integrator, reseller or hosting company, at some stage you will have to go and look around a datacentre on behalf of your potential clients.
This can't be an enormous amount of fun. There's usually a corporate film to sit through first, featuring time lapse photography of a busy city street at night. Believe me, once you've seen one film of blurred headlights, you've seen them all. The commentary will invariably contain the time-honoured phrase "in these increasingly competitive times." Then all kinds of spurious claims are made about the green-ness and power efficiency of the system – but you know it consumes more power than a small town before they get to be efficient with it.
They might be efficient in their use of power, but you know that bazillions of fossils had to be burned to fuel all the computations being made.
At most of the datacentres I have visited they create a big drama about not letting you in unless you have your passport – even though they know who you are. This is to impress on you how secure their establishment is. And yet I read somewhere this week that, once you are behind the scenes, most datacentres are shockingly insecure. People wander in and out and unplug each other's cables as they scramble through neighbouring wiring closets as a short cut.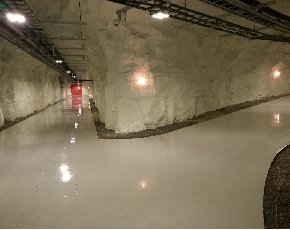 So it was refreshing to visit a genuinely low carbon datacentre in Norway. The Green Mountain Datacentre is located on an island near Stavanger and uses seawater to cool its data halls. The water comes in from the sea, under the force of gravity. This saline solution is used to chill fresh water, as seawater is too corrosive to be used in the internal piping, via a titanium heat exchange system. The cold fresh water is then piped into the datacentre halls to keep them chilled. In this way, the volatile costs for the most expensive part of a datacentre are wrestled to the ground and subdued.
Similarly, the electricity for powering the computers has no carbon footprint. It's created by hydro power at three different mountain reservoirs, which gives the datacentre a zero carbon footprint and high fault tolerance. There's no need for an emergency generator when you have three power supplies.
But the most exciting part of the exercise is verifying the security. The datacentre buildings were built inside a mountain on a remote island that was once a secret NATO base in the cold war. It looks like a hideaway in a James Bond film. It even has a giant stone door that rolls to one side once your host has convinced a biometric machine of his veracity.
Once inside you are separated from the outside world by 60 metres of rock. There are long corridors carved into the rock and four vast data halls that provide 7,000 m2 of rackable space. You expect to see a giant boulder rolling down the hallways and maybe some patrolling henchmen in a golf buggy. Outside any approaching boats are monitored by cameras should anyone approach the rock.
All that's missing is a swimming pool full of crocodiles which could be used for disposing of rivals. Now that's more fun than your average datacentre. Forget all those dreadful corporate films and endless Powerpoints. This is how to sell IT services!
A compliance or security officer will like the inaccessibility of a datacentre buried inside a rock with only two doors offering access. Marketing and corporate social responsibility officers, in turn, will be impressed by the low carbon footprint of a datacentre powered by 'sustainable energy'.
The chief finance officer will rave about the cheap electricity available and the stability of the price – Britain's power charges are set to double in 10 years' time. Green Mountain is offering a price freeze.
According to Green Mountain CEO Knut Molaug, all three will be asked to visit the datacentre in a long sales cycle that takes several months and involves several visits. Finally, the project will be signed off by one of them.
"It's the CFOs who make all the technology decisions now as they get to sign everything off," said Molaug.
Well, I'm not actually going to host my services with Green Mountain. But like me, you'll be glad you made the trip. It's worth going just to see the fjords, the mountains and Pulpit Rock.
---
Image credit: Green Mountain Datacentre
Read more on Infrastructure-as-a-Service (IaaS)