NAS set to top list of storage requirements in 2012
TechTarget research reveals the favoured technologies for investment in the cash-strapped storage market, writes Simon Quicke.
No one would argue against the fact that data continues to rise, but where there is room for disagreement is over which technologies are chosen to deal with that challenge.
For resellers seeking an insight into what storage products and services customers intend to spend their money on, the TechTarget/MicroScope Storage buying intentions survey revealed the current trends in the market.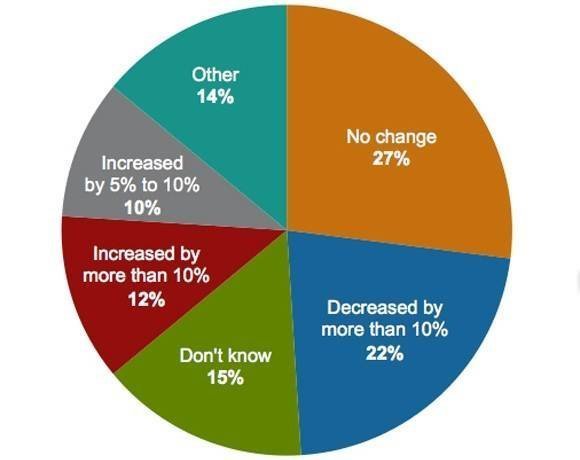 Storage Budget - 2012 vs 2011
Current storage setup
But before looking at what customers might buy, it is important to understand what is happening to budgets in general. Some 22% of those customers questioned revealed their budgets had dropped by more than 10% this year. Some are spending more – 10% revealed their funds had risen by 12% – but it would be a mistake to assume there are blanket good times happening out there on the storage front (see Figure: Storage budget – 2012 vs 2011).
Looking at where the money is currently being spent, the vast majority is going on disk hardware, with other categories, including staff and storage software, some way behind. The adage about chucking more disk at it still seems to be true when it comes to taking a chunk of the budget.
Network-attached storage (NAS) is the most popular currently installed system, followed by fibre channel arrays and storage area networks (SANs), as customers choose to use the flexible hardware option, which has already benefited from recent developments that have extended functionality and put the technology in the shop window again as the ideal SME solution.
The other factor to consider when putting the current customer landscape in context is the disk storage capacity already installed. Working out what customers are dealing with is crucial if those pitching products are going to sound informed about the state of the market.
The majority of customers are managing capacities of up to 50TB, and some even higher than that. Some 10% are dealing with more than a petabyte of information. That breakdown of the market explains why NAS is so popular and why SAN is comparatively lower down the pecking order (see Figure: Disk storage capacity installed).
Future storage plans
So having established that the landscape includes a preference for NAS, fairly tight budgets and capacities of up to 50TB for most firms, it makes sense to look at what the purchasing plans for the future are.
When asked what sort of capacity they expect to invest in this year, 32% said between 1TB and 10TB, while 22% expected between 11TB and 50TB. There were small pockets of customers that were even planning for more, indicating that if you choose the right target it could be a very positive experience.
On the disk system front, the majority identified the mid-market as the category that appeals, followed by low-end options. The high end remains an ambition for a select portion of the customer base.
But there is a note of caution sounded by the findings – the focus is going to be on building out existing systems rather than investing in fresh disk storage. In areas where there will be some fresh spending, once again the majority will be heading towards those selling NAS products.
When it comes to solid state disk (SSD), 39% of the respondents are already using it, but other customers seem to be taking a wait-and-see approach, with 27% currently evaluating it and 19% declaring no current plans. Around 15% said they plan to implement SSD this year.
The reason perhaps for such a high number of evaluations is that many view SSD as too expensive and describe the performance of their current hard disk systems as sufficient. There are also doubts around the technology being too new and untested. Any reseller pitching SSD should be aware of those concerns and potential hurdles in front of any sale.
Arrays are the number one choice for SSD implementations, with opportunities also available for those looking to install it onto laptops and desktops or servers.
The TechTarget/MicroScope research suggests that the sweet spot for storage resellers is the mid-market, with NAS the technology of choice for customers seeking extra capacity.
Read more on Network Attached Storage (NAS) Solutions and Services