How ProcessFlows saved £220,000 and won new business with Intuitive Dashboards
Alex Scroxton finds out how system integrator ProcessFlows levered Intuitive Business Intelligence dashboards to revitalise its internal processes and improve its sales prospects
With more and more data being created every second in hundreds of disparate applications, and business processes becoming more tightly knitted together, the importance of 'top-down' business intelligence (BI) solutions that provide a clear and integrated view of what exactly is going on within a business is no longer up for debate.

Download this free guide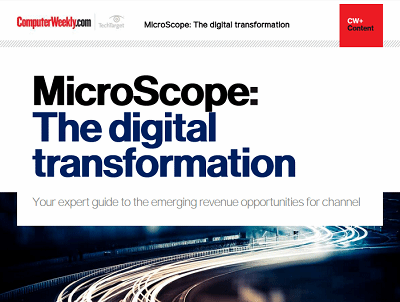 Emerging revenue opportunities for the channel with digital transformation
Digital transformation is a phrase that means many things to many people but for it to have any real relevance to the channel then it needs to mean a chance to make money. This guide will share some of the recent developments in the channel and the latest thoughts about the issue.
By submitting your personal information, you agree that TechTarget and its partners may contact you regarding relevant content, products and special offers.
You also agree that your personal information may be transferred and processed in the United States, and that you have read and agree to the Terms of Use and the Privacy Policy.
Software firm Intuitive Business Intelligence makes its living addressing these trends with its Dashboard solution, and one channel business that has recently taken the plunge as both an Intuitive partner and customer is Hampshire-based integrator ProcessFlows, which specialises in business processes such as fax and print, document automation, data capture and so on.
Key to ProcessFlows' way of doing business is the idea that it does not sell anything it does not use itself, and so when it signed up to supply Intuitive BI – in response to growing customer demand for reporting solutions – it also began to use it itself.
As a customer, ProcessFlows had found it was relying too heavily on spreadsheets to manage its business processes, resulting in a glut of static, out of date information that was hard to analyse and extrapolate trends and opportunities from, meaning management was consuming up to a day per month simply investigating its problems.
Among the issues the firm was seeing was a lack of real-time visualisation of events and incidents at its remote office in Bulgaria, and a growing number of financial penalties from suppliers when customer support contracts were not renewed prior to expiry.
However, once Intuitive Dashboards was up and running at ProcessFlows, something rather unexpected happened, according to Colin Stocker, Intuitive channel account manager.
"I think they were very surprised by how, when they put it into action, it turned up a number of things they hadn't expected it to," he says.
ProcessFlows client services director, Graham Reddie, elaborates: "I was looking for a solution that would cover our whole set of internal solutions, but also looking for a platform to sell over the top of our other solutions.
"When we implemented it, we realised we weren't seeing what was going on in the business – our spreadsheets were about last month, not now," says Reddie. "But once that data was in Intuitive I realised I could dice it in a number of different ways; I could uncover unpaid activity, for example, and I suddenly realised my most expensive resources, my consultants, were covering helpdesk duties and it was clearly a terrible business decision, nobody had made it, it just happened over the years."
"The suggestion that they could relocate some helpdesk activity helped recover one man month per month, in effect gaining an extra consultant," says Stocker. "In terms of ROI, let's be conservative and say that 50% of that one man's time can be recharged to a customer – that's where the savings come from.
"Dashboards gave ProcessFlows an opportunity to spot potential efficiencies in their business that they had not seen before. Our services are optimised and deployed in the best way possible, and that philosophy can be spread across other areas of the business," he adds.
In ProcessFlows' case, that saving has so far amounted to £25,000 of direct savings gleaned from transferring helpdesk functions offshore and the potential for £161,000 of new revenues having freed up its consultants to concentrate on their core job function. It has also begun to drive higher levels of renewals, estimated to be worth approximately £30,000 based on a 1% annual uplift, and at the same time cutting late renewal charges from vendors by the same amount. The total saving, to date, has been around £220,000.
"We now have a goal that every employee will have a dashboard, and we are working on creating one for everybody in the business, consultants can see their utilisation, revenues and leads, sales can see their targets, accounts can see their goals in terms of reducing debtor days, for example," says Reddie.
ProcessFlows is now using its own positive experience to drive engagement with its customers, as Reddie explains, being able to demonstrate how he was able to apply Intuitive to parts of the business he had not previously thought to means potential customers can also have their own "light bulb moments".
"If you can get Intuitive through the door and customers can grasp it there is a moment where they think, oh, crikey, I can also use that over there, or over here," says Reddie. "We've highlighted business decisions at customers that were made years ago and have never been challenged. It could be in an invoicing customer but our solutions show them, for example, how much they were spending on postage and packing as well."
Stocker at Intuitive concedes that process automation sales can be fairly dry and the channel needs all the help it can get to explain the concept succinctly to potential buyers, so becoming your own reference is not a bad idea.
In terms of customer impact, ProcessFlows has already taken its Dashboard solution into a number of customers, and calls out Tyneside-based housing association Bernicia Group as one user that has benefited.
Bernicia, which manages thousands of properties around Newcastle, had problems with its data and what it was able to do with it, and its IT head turned to ProcessFlows after realising he was not going to have the time or resource to build what he wanted in SharePoint.
As a result of implementing Dashboards alongside its finance, document management and property repairs management solutions Bernicia says it has now cleared its "data fog", and improved both its interactions with various suppliers, and most importantly, its ability to service the needs of its tenants.
"We walk in and the customer has a problem," concludes Reddie. "We have always used disparate elements of our portfolio to address processes that the customer has never heard of and doesn't give a hoot about – but Intuitive Dashboards makes it much more interesting because it presents as a customised app, built just for them. From a sales perspective it's definitely made it much easier to get across to our customers exactly what we're delivering."
Read more on Business Intelligence Tools and Services